Office Equipment Sales in New York for Copiers, Printers, Water Coolers, and Other Office Equipment in NY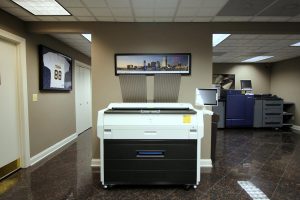 You are making the ideal connection if you need office equipment in NY. We have been satisfying the needs of businesses since 1997, and we continually grow through the many referrals that we receive from satisfied clients. If you would like to see what people have to say about our office equipment, take a moment to check out our testimonials.
Copiers and Printers
When you choose Document Solutions, you will definitely find the ideal office equipment for your New York business. 3D printers are very popular, and we have many in stock at all times. The Konica Minolta ProJet 60 series is extremely popular, and there are models in this line that can satisfy the needs of businesses of all sizes.
Large format printers are in our inventory, along with preproduction systems and scanners. If you are interested in a black-and-white or color multifunction copier, we have multiple options to choose from. We also carry mailing solutions like folder inserters and postage meters. Simply put, if you are looking for office equipment in NY, we can provide the ideal product at the right price.
Office Equipment Repairs
In addition to our office equipment sales, we are a copier and printer repair resource. Technology is always advancing in our business, and we stay a step ahead of the curve. We understand the importance of ongoing training, and we have responded in a big way. Our company maintains a state-of-the-art training center in-house, so our people are always up to speed.
Over the 20 years that we have been exceeding the expectations of clients, we have identified the companies that produce the best printers and copiers. We feel very comfortable with Konica Minolta, and apparently, they feel the same way about us. They have given us their Pro-Tech Service Award every year since 2007. This award is given for outstanding service, support, and customer service.
Managed IT Services
You can rely on us for office equipment sales and repairs in New York, but our offerings do not stop there. We also offer managed IT services, including print services, document management, disaster planning and recovery, and more.
Get In Touch!
We are here to help if you need repairs, managed IT services, or new office equipment in NY. If you would like to speak with one of our knowledgeable consultants, we can be reached at 888-880-3377. There is also a contact form on this website that you can use to send us a message.