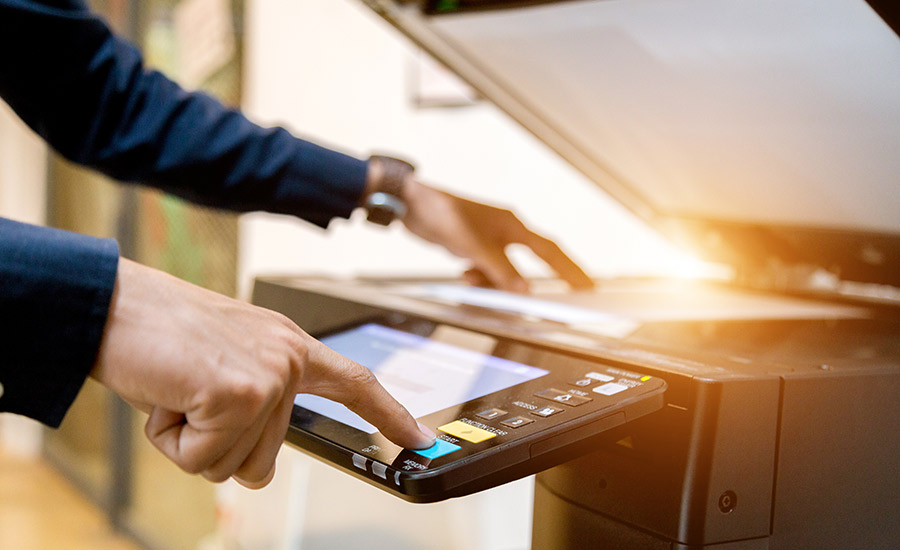 Cutting costs can be a touchy subject when it involves laying off employees or reducing the quality of your service, but it should be a no-brainer when it can be done painlessly.
Cost-cutting without a downside sounds unattainable, but it can be done. One way to cut costs, while also improving productivity, is to invest in managed print solutions (MPS).
What Are Managed Print Solutions?
Managed print solutions cover office needs regarding printers, copiers, fax machines and scanners.
Put simply, companies that utilize managed print solutions allow external managed IT services to monitor and manage their in-house printing operations. These professionals detect and take care of flaws in processes such as unnecessary printing or misuse.
With managed print services, you can control all aspects of your printing and copying workflow without doing any legwork and saving money in the process.
This includes not only printer maintenance and ensuring that everything is running smoothly, but also keeping tabs on things like paper use, page counts, error reports and toner levels.
Benefits Of Managed Print Services
An effective MPS provider can reduce the need for time-consuming and inefficient IT support calls by preventatively maintaining your printers and related devices, as well as offering training and support to your staff.
Managed print solutions also offer more fine-tuned management of your resources
Professionals actively look for and reduce difficult-to-spot waste. Things like unnecessary overprinting of redundant documents or your staff's use of printing resources for non-work-related needs can all be handled through managed print services.
Quality MPS providers watch over these processes in real-time and deliver highly detailed regular reports on their findings.
These reports provide you with a comprehensive overview of how efficient your printing operations are, helping you reduce waste and deal with issues promptly.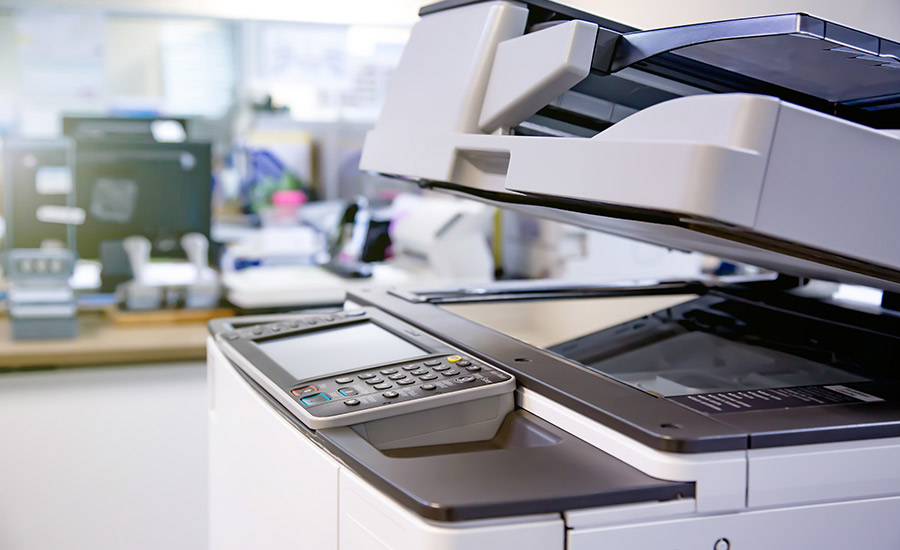 5 Ways Managed Print Services Can Help Your Business Save Money
So how exactly can investing in managed print solutions help you save money?
Let's dive in.
They Ensure Your Equipment Is Updated
For most companies, printers and copiers are not exactly at the top of the priority list when it comes to updating and upgrading, so many rely on outdated and legacy devices to do most of the work.
While these devices may have cost a lot when they were first released and may have served your company well in the past, like any piece of machinery, they are prone to failure and may end up costing you more in expensive repairs.
Older devices also pose another efficiency issue: you may need more than one device to accomplish various tasks. Multiple devices can take up space and waste your employees' precious time as they bounce back and forth to finish tasks.
Modern multi-function devices (MFDs) are highly efficient and can enable you to perform all the required tasks in one place. This not only frees up space but reduces energy costs with the latest ENERGY STAR-rated devices.
They Help You Keep Track of Printed Pages
The costs associated with poorly managed printing can stack up fast. One recent study estimated that as much as 3% of a company's annual revenue is eaten up by printing expenses. If you factor in hidden costs, this percentage can increase significantly.
According to the same study, the average white-collar employee may print as many as 10,000 pages each year. A significant portion of these 10,000 pages may not even contain necessary work-related materials.
Still, you may be surprised to find out that around 50% of printed pages are thrown out by the end of the day, and approximately 20% are never even picked up from the tray.
With managed print services, you'll always know what the printers and copiers at your office are being used for and by whom. This will clearly show any inefficiencies in printer usage and help you understand how to optimize the process.
They Improve Data Security
Never has the security of information been more vital than today.
An unsecured physical document or copy uncollected from a printer tray could open your business up to all kinds of trouble, potentially leading to a data breach or even civil liability.
Investing in managed IT services and managed print solutions can help reduce your company's risk when it comes to data breaches.
Professionals can help improve your company's digital infrastructure, upgrade your business's network security and make sure you're implementing the most advanced cybersecurity protocols.
Your business needs to comply with a wide variety of data security laws and regulations when it comes to processing sensitive info.
This means you must conduct audits on your risk mitigation strategies, controls and processes and demonstrate compliance with these regulations.
When managing your printing and copying in-house, the cost of compliance can add up quickly. With a document management system and an integrated fleet of managed multi-function devices, your company can significantly reduce the cost of demonstrable compliance.
An automated workflow combined with a data management system can generate an effortless trail of all staff interactions with company records.
This means you'll always know exactly which member of your team interacted with which piece of data, giving you the ability to track down the source of any potential breach.
They Provide Considerable Savings On Supplies
The cost of printer supplies is not insignificant.
Copiers and printers are not cheap to buy, but they can sometimes be even more expensive to operate, often due to the inefficiency of their imaging transfer systems. This is especially true for the legacy devices we discussed earlier.
Given that printer ink costs about $12,000 per gallon, cutting back on the printer supplies you use throughout the year can provide a significant boost to your bottom line.
Another thing that can unexpectedly throw a wrench in your processes is running out of supplies at a critical time. This can wreak havoc on your productivity and set you back thousands of dollars.
A managed print solutions provider ensures you'll always have the ink, toner and paper you need, when you need it.
You'll never have to run out to a commercial supplier and pay a premium price to get things up and running again; it is all included in the program, allowing you to put your mind at ease.
They Help Streamline The Working Environment
Quality MSP providers can analyze and optimize your printing processes.
Aside from helping you save money by replacing inefficient printers with more modern solutions, generally using the right devices for the right tasks will make your staff much more productive.
An MPS provider can optimize your printer fleet to offer the most return on your investment, as you'll only pay for what you use.
With an increasing number of employees expressing a desire for flexible remote work options after the pandemic, managed print solutions are certainly the way of the future.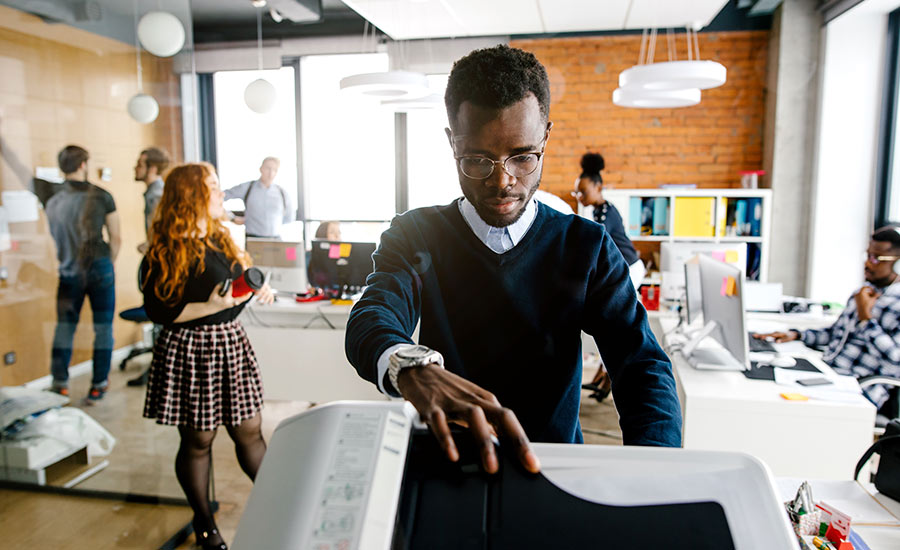 Main Takeaways on Managed Print Services
If you want to stay ahead of the competition, you need to look into leveraging the benefits of managed print solutions, not only in terms of cost reduction but in other aspects such as greater reliability, security and productivity.
Moving to a managed solutions model could help you refocus your organization on the core functions of your business, not to mention freeing up your staff to focus on tasks they were hired to perform.
Regardless of the specific industry or niche you're in, boosting efficiency in the office while employing a more cost-effective approach to printing is a worthy investment.
One of the main objectives of managed print solutions is to keep printing costs low by optimizing purchases of supplies and regulating the amount of printing performed by your staff, to help reduce waste that may go unnoticed.
Why Document Solutions Is the Right MPS Provider For Your Business
Here at Document Solutions, we work with you to understand your company's unique needs and preferences and develop a custom solution to help your business become more resilient, efficient, cost-effective and sustainable.
We have been serving small and mid-sized businesses in the New York and New Jersey areas for over 23 years, always focusing on simplifying the lives of our clients.
You can be sure that we'll work not only harder, but also smarter than other companies in our industry to deliver on each and every one of our promises.
Document Solutions offers a wide variety of printing equipment, printer brands and MPS-related services to suit your business needs. Our scalable and flexible managed print services will help streamline your processes and boost your efficiency, saving you money and time, while improving your security.
Aside from managed print services, we also provide ECM solutions, managed IT services, VoIP phone systems, touchless water dispensers and more.