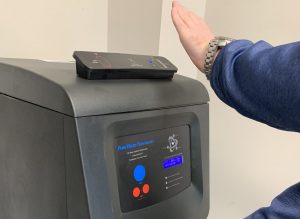 DS Business Life Simplified announces an innovation in COVID-19 management for pure water technology – TOUCHLESS PSD Sensor designed specifically to address repeated touching by numerous users…
This new retrofit is available now for preorder from DSBLS. The new sensor will allow offices in New York and New Jersey to meet current COVID-19 transmission concerns by providing a safer point-of-use bottleless water cooler system. Additionally, these offices will still benefit from eliminating the environmental impact of bottled water.

This HANDS-FREE solution can help you reduce the spread of germs and viruses at your office!