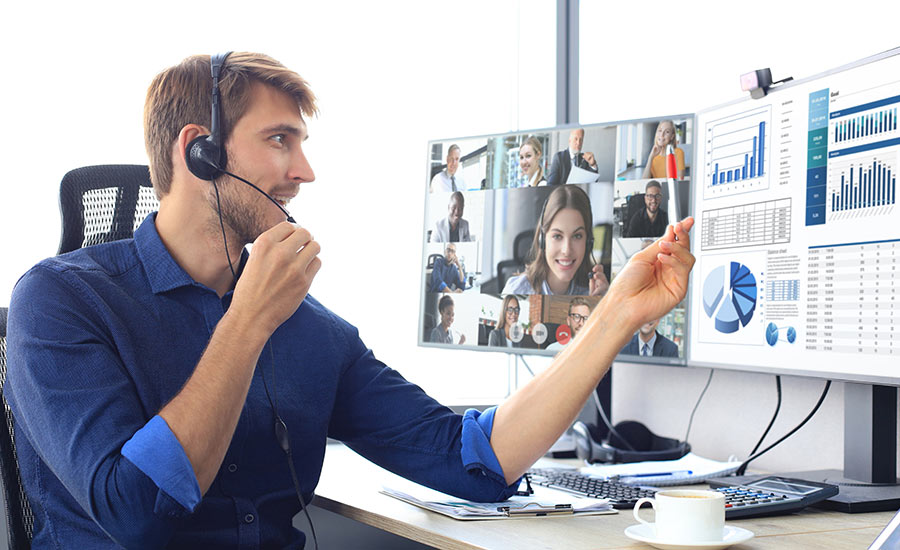 According to a recent report, 38% of US companies either implemented new technology or expanded existing technology tools for employees working remotely in 2021.
For decades, technology has been instrumental in changing the working stereotype model and its rhythm.
From copiers and printers to videoconferencing and project management tools, technology in the workplace has an effect on work locations and schedules as well as productivity, communication and security. Staying up-to-date with the latest technology is mandatory for companies that want to stay competitive in an ever-changing market.
Technology has turned into our digital shadow, always present and invariably connecting us with people, news and tasks.
In this article, we'll take you back to some of the first technology discoveries that changed the working landscape, then we'll focus on the changes technology has made to the modern workplace and share how to use it to your advantage within your business.
A Brief History Of Technology In The Workplace
Being surrounded by technology advancements that we often take for granted and use around the clock in our work lives makes it difficult to imagine working before these benefits existed.
The 1960s-1980s was an era of cluttered offices, paper overload, constant physical footwork to reach potential clients, expensive phone calls and lengthy business travel to present, discuss and seal a deal.
One of the first inventions that truly began to change the workplace was the office copier, invented in 1965 by the Xerox corporation.
It gained popularity fast, and Xerox raked in $500 million in revenue by 1965.
In the 1960s, technology in the workplace welcomed the first computer mouse, along with manual word processors and RAM chips.
The birth of the Ethernet, fax machine, laser printer, 1.44MB data floppy disc, and the development of a computer with a basic word processor all added to a more comfortable and flexible working environment in the 1970s.
The 1980s became a revolutionary decade for workplace technology with the increased popularity of computers in offices. This opened the doors to an entirely different workplace, providing more ways to optimize daily tasks.
The 80s also witnessed more discoveries to add to an innovative office later on: the launch of the first mobile phone and the creation of the Network file system as a predecessor to the modern network storage, as well as the registration of the first dot-com business, all in 1985.
But even greater technology miracles were on the horizon.
The 1990s enhanced the workplace technology speed with the creation of the web browser (1992), the implementation of emails (1993), the moment when business emails began to prevail over regular mail (1997) and the birth of Google (1998).
Computers were not just popular, they had all of sudden turned into a necessity.
The 2000s working process put an emphasis on connectivity at the workplace. The easy access to smart phones affected communication and made the reach to clients, employees and executives possible from anywhere.
Coworking terms were introduced and the world saw the first remote office opportunities including the ability for employees to work from home or local cafes.
Skype, Google, social media (like Facebook and Myspace) and the iPhone added even more value to work flexibility and communication.
After 2010, remote work gained popularity. Technology became a must to support daily operation tasks through interactive screens and video conferencing apps like Skype, along with other programs and apps such as Google docs, Dropbox and Microsoft Teams, plus artificial Intelligence and of course, smart phones.
The 2020s was a turning point that made many businesses evaluate and redefine their working environment once again.
The Covid pandemic turned technology into the king for the global workforce. It was a time of challenges but also of new opportunities to optimize office space rentals and lower expenses, hire versatile talent from all over the world and move to a remote environment.
All this was possible due to the many modern technology platforms and tools available today.
Zoom, Skype, Teamwork and more became an absolute must, a part of the daily working routine for millions – spaces to work, exchange ideas, and also to have fun celebrating team achievements, baby showers, weddings and more.
How Has Technology Affected The Modern Workplace For Businesses?
Modern businesses have witnessed revolutionary changes in the workplace thanks to technological advancements over the years. The technology available to companies today is a key factor in many performance indicators such as organization, productivity, cost management, security and more.
Technology simplifies, streamlines and optimizes the business performance and helps ensure uninterrupted operation flow that can be supervised and tracked 24/7 from anywhere in the world.
Let's look at a few of the ways technology has affected the modern workplace for businesses.
Organization
Technology has a way of stimulating efficiency, accountability, responsibility and delivery, resulting in better organization.
Employees can work simultaneously on the same project and even on the same document while discussing the details over conferencing apps like Zoom, Teams or Skype.
Project management solutions allow managers and employees alike to keep track of each stage of the working process, assign and move deadlines, supervise and interact, review, assess, and even predict and control risks.
Any delay is visible and can be addressed in a timely manner to prevent financial losses.
In a recent survey conducted by PWC, 83% of employers evaluated remote work shifting as successful based on Covid times observations, and it's not difficult to see why.
Productivity
The above PWC survey also revealed that 52% of employers confirmed that remote work improves productivity.
77% of company executives say they have become more productive through adding work applications to their mobile phones.
In a remote environment, technology allows employees to work from anywhere in any time zone. The workforce has shifted to allow many employees to work during the time they are most productive, early in the morning or late at night, as long as their work is completed.
Technology assists with schedule coordinating, meeting appointments, project sharing, reminder alerts and even out-of-office auto-replies with contact details of someone who can take over during an employee's absence.
By allowing employees and managers alike to see a project's progress in every stage and collaborate in an instant, technology significantly increases productivity.
Cost Management
The use of technology in the workplace affects cost management in a variety of ways. Mainly, it allows employees to work from anywhere, cutting down costs for office rentals and accompanying utility bills.
It also provides the opportunity to connect without the need for expensive business travel, including flight tickets and hotel accommodations. According to a recent report, 75% of company executives say they have decreased their travel for working purposes due to videoconferencing possibilities.
Companies can hire the best talent from any point of the world and negotiate conditions that would be beneficiary for both the employees and the business financial results.
SaaS technology tools can also prove cost-effective in helping to automate processes and prevent human error that could lead to lost revenue.
Security
Modern technology solutions offer protection for sensitive business information, reducing the risk of hackers and leaked data.
Solutions include virtual private networks, encrypted data without the possibility for outside interference, access per employee level, facial or fingerprint identification, filters to track if company information is leaked out through personal emails and more.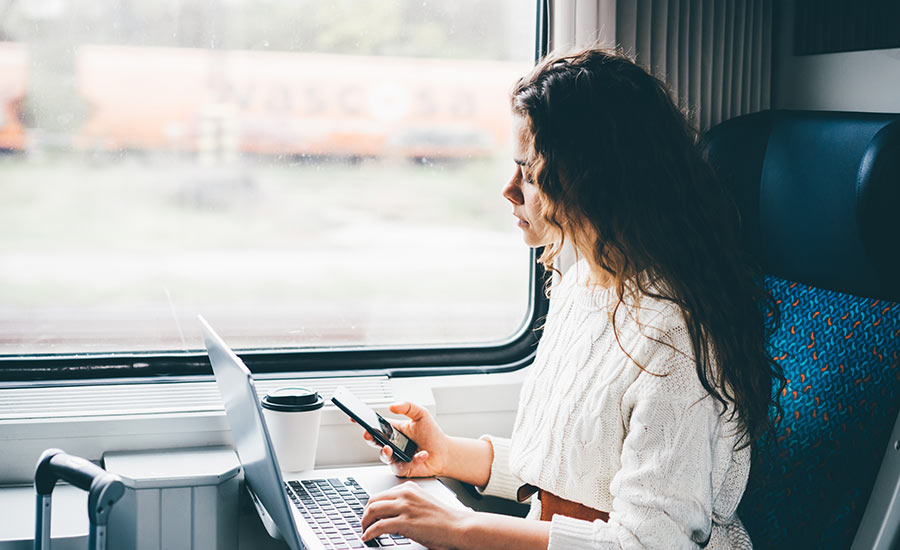 How Has Technology Affected The Modern Workplace For Employees?
Employees, in turn, also benefit from the impact of workplace technology in regard to work-life balance, better communication and easier collaboration.
Work-Life Balance
71% of employees are confident that they are on top of their tasks with the help of mobile applications. They can review the progress on their projects, benefit from detailed planning and set reminders.
53% prefer the hybrid model, which allows them to work remotely a minimum of three days a week.
Technology allows people to work in a flexible mode, whether that means working in an office, working while commuting or working from home.
The ability to also choose working hours, which many employers offer, allows employees to work when they're most creative and also have enough time loved ones.
Communication
87% of employees say they prefer using email as their primary communication method while 40% of millennials say video meetings through voice technology is helpful in their work.
Emails, smart phones, chat platforms like Viber or WhatsApp, social media channels and more have made communication more effective: it's easy, convenient and fast.
Both clients and colleagues are able to reap the benefits of these modern communication channels. They can send a requested document in a single click, and it can be accessed from anywhere, at any given moment.
Collaboration
Videoconferencing and other collaboration platforms allow employees to simultaneously share ideas, plan, brainstorm, and even work together in the same file.
From one-to-one interviews to team meetings or company meetings, technological advancements have certainly improved collaboration across companies and across the globe.
In the case of a pandemic, collaboration platforms skyrocket. According to a recent report, on a single day in March 2020, 44 million people used Microsoft Teams, compared to 20 million just four months earlier.
Modern technological advancements have made collaboration fast, easy and flexible, with real-time updates for clients, employees and executives alike.
Easy Solutions For Implementing Technology In The Workplace
In this day and age where employees can work from their office, home, a cafe, a shared office space, a park, a sea or a mountain resort, it is critical to invest in worthwhile technology solutions.
When you introduce a new app, platform or other type of technology into your working environment, training is key. Technology can certainly work for you, but only if your employees understand how to use it and benefit from it.
The good news is that implementing new technology into your workplace environment doesn't mean that you have to set up, train and manage everything on your own. Here are two comprehensive solutions that can make your life easier when it comes to technology management:
Here are two suggestions that can work for your office or remote workplace environment:
Managed Print Solutions
Managed Print Solutions provide services related to printers, office copiers, fax machines and scanners.
The services ensure proper use of resources like paper, detailed records and easy tracking as well as reduced costs without the need for IT support calls.
The result of managed print solutions result is a seamless and uninterrupted office working environment, saved time and improved efficiency, along with a reduction of your environmental footprint and improved information security.
Managed IT Services
Managed IT Services support today's technology needs on every level. They ensure efficient communication that boosts collaboration and increases productivity through a number of platforms like Elevate.
This VOIP phone system is a cloud-based communication and collaboration platform that can be used both for office and remote interaction, as well as hybrid setups.
The platform combines ease, flexibility and security and optimizes infrastructure and expenses with no need to buy, install, manage or upgrade hardware systems.
Elevate integrates computers, mobile and desktop phones to provide videoconferencing with screen sharing, fax services, team chats with encrypted, automatically synchronized messages across desktop and mobile applications, file sharing, file back-up, and voicemail.
Mobile devices also work in line with the corporate phone system.
The system can be accessed from any device, any time, from any point — all you need is an internet connection.
Its functionalities connect into everyday business applications like Google, Microsoft, Salesforce and more.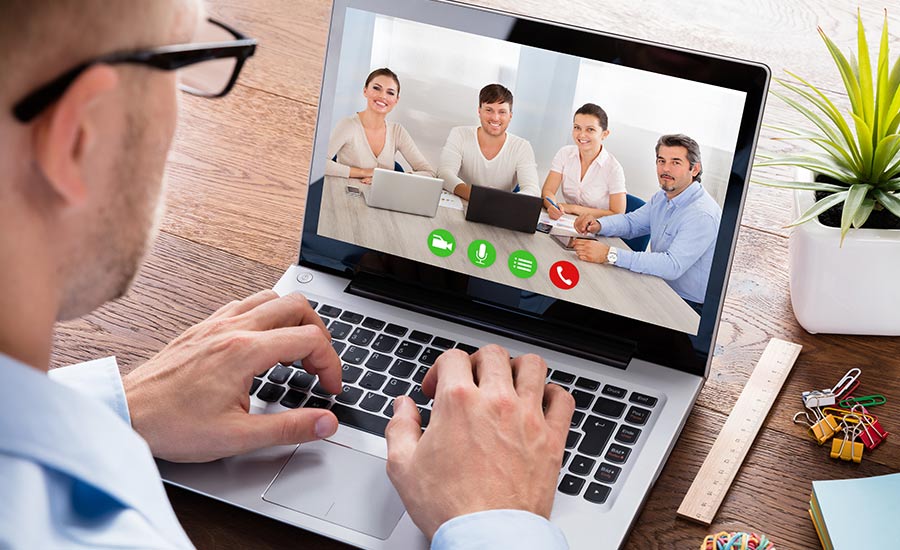 Takeaways On The Impact Of Technology In The Workplace
Technology has certainly come a long way since the invention of the copier, and there's no doubt it will continue to advance at a rapid pace.
Thanks to technological advancements, the traditional workplace has changed significantly, and machines, apps and platforms alike now contribute to optimized communication, collaboration, productivity and security.
Modern technology solutions allow virtual workspace where employees can discuss and brainstorm ideas, collaborate on projects and reach customers and colleagues across the world without ever having to step foot in an airport.
As technology advances even further in the years to come, services like managed print solutions and managed IT can help ease setup, training and management for business owners.