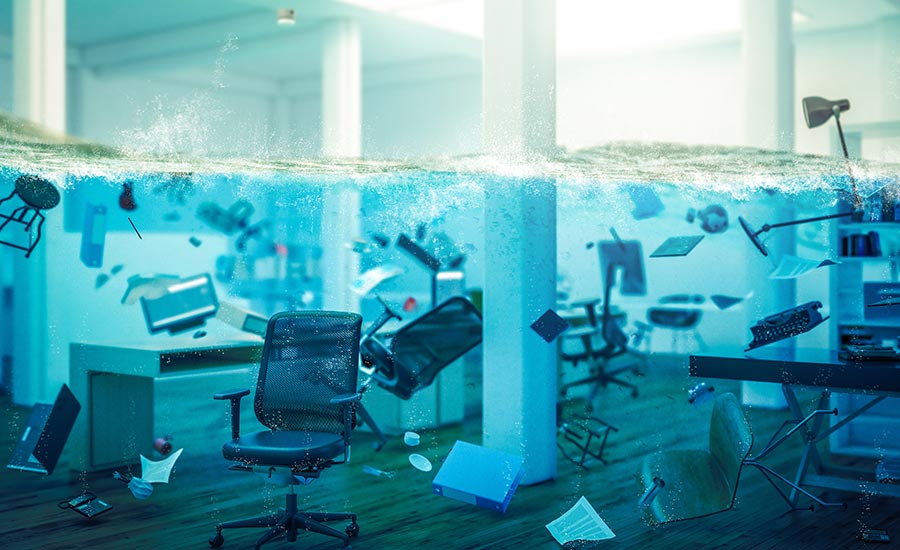 90% of all natural disasters in the United States involve flooding, while globally half a billion people are affected by floods every year.
Just one inch of water can result in $25,000 of damage to your office or home. Depending on the equipment and electronics you have stored in the space, the cost could skyrocket.
From hurricanes, heavy rains or melting snow to frozen pipes, broken sprinkler systems and leaks, water damage can lead to disastrous and costly consequences for your office where valuable equipment like computers, copiers, printers and phones are stored.
So, if your office equipment is damaged by water, what should you do?
Here, we'll offer water damage cleanup tips for your copier and other office equipment, in both leased and owned situations, plus detailed water damage prevention methods to keep your equipment safe and dry.
Water Damage Cleanup Tips For Leased Copiers
Large multi-function copiers used at the office can be very expensive to purchase, but also costly and time-consuming to maintain. This is one of the reasons why many businesses prefer leasing a copier for their office.
This option guarantees convenience and flexibility in copiers, training, maintenance and qualified tech support.
But what happens if your leased copier suffers from water damage?
Let's look at a few possible scenarios and the steps to take in case water damage compromises your leased copier.
Situation 1:
You have leased a copier, and your leasing company has provided you with both the copier and insurance.
Steps to take in case of water damage:
Turn off the electricity, gas and water so people in the office are not at risk
Unplug the copier
If possible, dry the area around the machine
Call your leasing company immediately to report the damage
While waiting for a representative to arrive, take photos to document the damages
Do not try to repair or use drying tools on the copier on your own
After you report the incident, technical professionals should come out to assess the damage and determine the next steps. They will run detailed diagnostics to assess the condition and potential damages.
In most cases, your copier leasing company should provide immediate access to replacement parts and components.
If the water damage is too severe, your leasing company should provide a substitute multi-function copier (as long as it's included in your contract) so your business remains as uninterrupted as possible.
Situation 2:
You have leased a copier, but your insurance is through a third-party company, instead of through your leasing company.
Steps to take in case of water damage:
Turn off the electricity, gas and water so people in the office are not at risk
Document damage by taking clear photos or videos
Check with your insurance company to determine if your policy covers water damage
Follow the instructions of your insurance company; they may need to conduct their own inspection by sending an appointed loss adjuster to your office
After your insurance company assesses the damages, work with an adjuster to file a claim
Ask your insurance company whether they will provide a replacement copier or send someone out for repairs
Situation 3:
You have leased a copier but you do not carry insurance through your leasing provider or through a third-party company.
Steps to take in case of water damage:
Turn off the electricity, gas and water so people in the office are not at risk
Contact the National Flood Insurance Program (FEMA) about the damages to your copier and other office equipment to ask about possible grants; Check if you are eligible for filing a claim.
Check if your business is located in a region declared a disaster area; if so, there will be special FEMA documents to fill out so you can get a reimbursement or a loan to purchase new equipment
If the cause of the water damage is a natural disaster, check with the Small Business Administration (SBA) to see if you can apply for a low-cost loan
Ensure the entire process is well-documented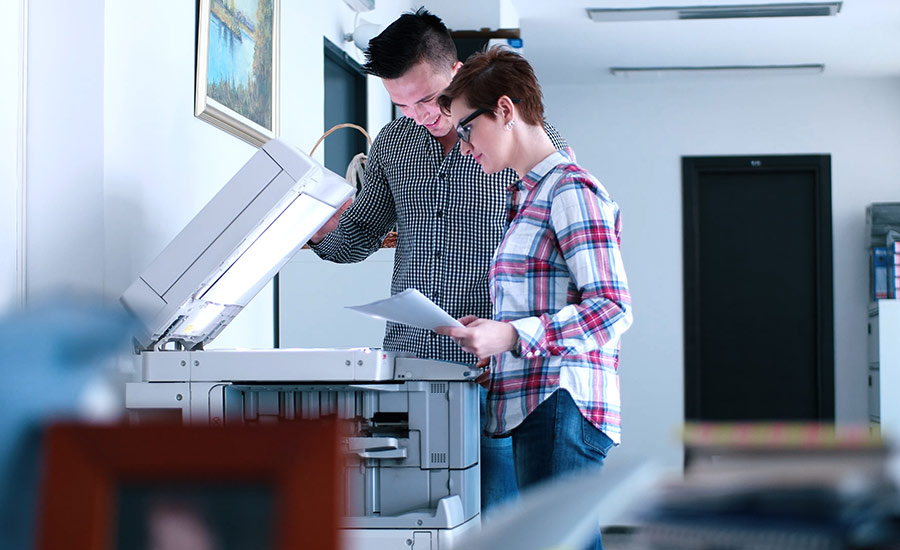 Water Damage Cleanup Tips For Owned Copiers
Flooding and other water damage can cause significant losses for any business when equipment is damaged. If you have expensive equipment like computers, printers, copiers, or servers, you may have signed up for an Electronic Data Processing (EDP) Coverage.
Many (but not all) such policies include flooding as a covered risk. If your copier and other office equipment is damaged by flooding, check if your policy extends to water damage.
Depending on whether you have insurance on the copier itself, you can contact your insurance company or FEMA.
To protect those in your office, turn off the electricity and unplug your copier machine as soon as you note water damage. The next steps will depend on your insurance situation.
If you need a copier for your daily operation and the damaged equipment is declared a total loss or removed from your office for repair, you may want to consider leasing a copier until your model is fixed or replaced.
Water Damage Prevention For Your Office Equipment: Monitoring And Maintenance
To minimize the risks from flooding caused by on-site factors, check your office regularly for possible threats to your equipment:
Elevate your copier from the floor, if possible, to avoid or minimize flood damage
Cover your equipment to protect it when you leave the office
Check pipes every 24 hours to avoid freezing and rupturing
Maintain a regular in-office temperature to prevent drastic temperature changes
Inspect plumbing for defects, leaks, dripping, signs of wear and tear or clogged drains
Monitor office walls and floors for cracks and crevices through which water can penetrate
Use waterproof sealing on office windows
Note wet spots and stains on the walls, which could be a sign of existing problems
Monitor your gutter system
Check the roof condition and the flashings around the exhaust vents, if your office is located on the top floors of the building
Check your sprinkler systems, plumbing and water heaters on a regular basis
At DS BLS, prevention is also part of our solution. We offer copier and printer leasing, along with managed print services to help simplify your life and streamline communications.
We want to keep your equipment safe and operating as much as you do. By partnering with us, you can expect preventative maintenance programs that ensure maximum uptime and superior performance.
You can focus on keeping your working conditions safe for your employees, while we focus on your copier and printer maintenance.
Water Damage Prevention For Your Office Equipment: Additional Measures To Further Reduce Risk
While you can certainly benefit from the above prevention methods, you may want to consider taking your prevention plan a step further.
Install a water leak detector
Have a Business Continuity Plan and a Crisis Communications Plan to define the exact steps in case of flooding and the people in charge of each activity
Know the exact locations of water shut-off valves and label them accordingly, so anyone can close them in case of an emergency
Keep contact numbers of your plumbing company, fire and police stations, HVAC and a water extraction company available to all employees
Keep important business information such as financial and insurance data, engineering plans and drawings, personnel and client files and more, safe by using:

Fire and waterproof cabinets with secure locks
Cloud-based platforms
Offsite locations less prone to flooding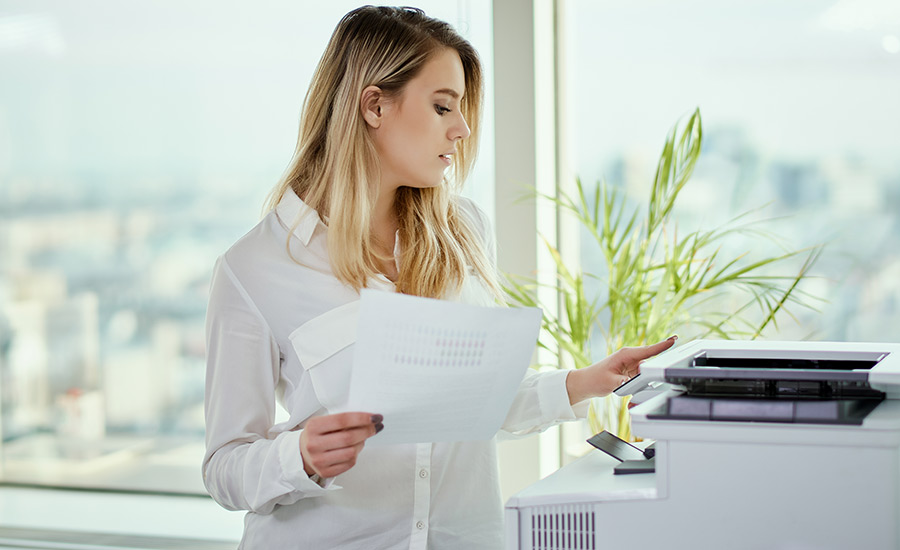 Takeaways: Water Damage Cleanup Tips
Water damage to your office can cause major financial losses if you're not prepared ahead of time.
In the US, 175 private companies were insured for flooding in 2020, compared to 152 in 2019, and 127 in 2018. With the increase in natural disasters around the world, insurance is key to minimizing unexpected damage.
Since flooding does not cover all cases of water damage, consider an additional policy that might protect you under different water damage circumstances — consult your insurance company on the best options for your needs.
To help prevent major losses, perform regular checks to ensure there are no structural or maintenance problems that may result in leaks and harm your copiers, other technical equipment and important stored data.
If you are leasing a copier that is damaged by water, contact your leasing company to substitute the damaged device with another one, until repairs are made, to help your business remain as uninterrupted as possible.
In case of serious damage to your own copier, consider leasing a machine while you wait for repairs or purchase a replacement.