When COVID-19 lockdown measures were put into effect in March 2020, much of the US workforce dramatically shifted to remote work.
According to a report from the Pew Research Center, as many as 71% of American workers are currently working from home, and as many as 54% would prefer to continue to do so after the outbreak ends.
For the sake of comparison, only 20% of people worked from home before the coronavirus outbreak.
That may be true for employees, but what about employers? Does remote working make the most sense from a business standpoint, or should business owners look to get their employees back into the office as the pandemic comes to an end?
There are many factors to consider when making this decision, and cost is certainly one of them. Here, we'll break down the costs of working from home vs. office, including considerations for each such as communication tools, utility costs, office rentals, cleaning fees and more.
Working from Home vs. Office: Office Costs
There are many factors that come in to play when discussing office costs. Size of the office building, location and number of employees, to name a few. So for this case study, let's say your business employs between 50 and 100 people, and it is located in New York.
Let's also assume it is a desk-based operation, one in which your employees are not expected to spend too much time out in the field.
Below, you'll find some rough estimates of the costs you'd have to consider if you decided to run your team entirely from an office setting.
NYC Office Rental Cost
Office rental is by far the largest expense category. With real estate prices steadily rising, this could drain your budget quickly. Plus, if you have an office-based set-up, you'd need to consider the cost of housekeeping, maintenance, furnishing, etc.
Let's take a look at the average rent per square foot in Manhattan, Brooklyn and New Jersey.
According to rental trends for New York City office space, the renal spaces in the city are divided into three classes, with Class A listings in Manhattan, unsurprisingly being the most expensive at an average of $93.65 per square foot in 2020.
Class B and Class C office spaces in the city are quite a bit cheaper, coming in at $61.66 and $51.94, respectively, both similar to what you would be expected to pay for a Class A office in Brooklyn.
The table below outlines the available office space classes and their respective costs in three different districts: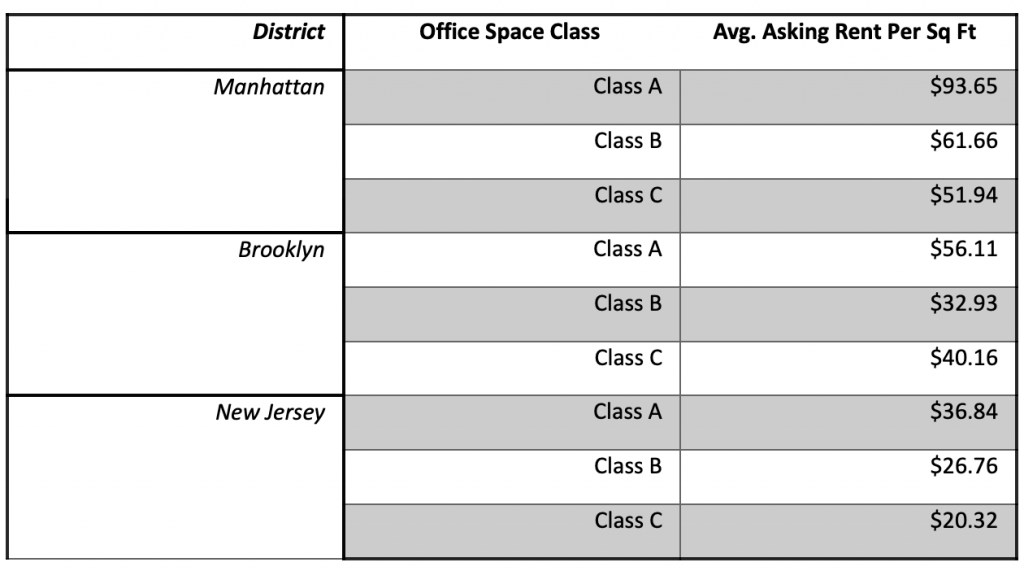 Average Utility Cost
When it comes to utility costs, the largest operating expense would likely come in the form of your electricity bill ― specifically lighting and HVAC systems. Commercial buildings spend an average of $2.10 on energy per square foot in the United States.
Naturally, this can add up to a significant expense depending on the size of your building.
Many factors contribute to your energy consumption and, therefore, the energy cost.
There's also the cost of business internet, which, again, ranges depending on your needs and the type of business you run. Estimates show that monthly internet fees for a small business can range from $35 to $500.
Cleaning Services Cost
Cleaning services have always been a factor in determining the cost of running a business. However, the reason this category is getting its own segment in this cost breakdown is because of the COVID-19 pandemic.
The "new normal" has forced businesses to focus on disinfection services more than ever before. After all, if you're going to have all of your team members working from the office, you want to make sure everyone is protected.
As with every category, pricing here varies. But estimates show you should expect to pay anywhere between $0.07 and $0.15 per square foot for a thorough cleaning in New York.
Other Business Costs
Now that we've covered the most common costs of running an office, we can focus on some additional expenses you might incur depending on your industry and needs. Here are some estimates of what you can expect to pay for the different services listed below:
We should note that the costs of the above items are the same regardless of whether you decide to run a remote business or have your team working from an office.
The cost of other items, such as printers and copiers for your team or touchless water dispensers for your office depends on the number of units required and the capacity in which they are used.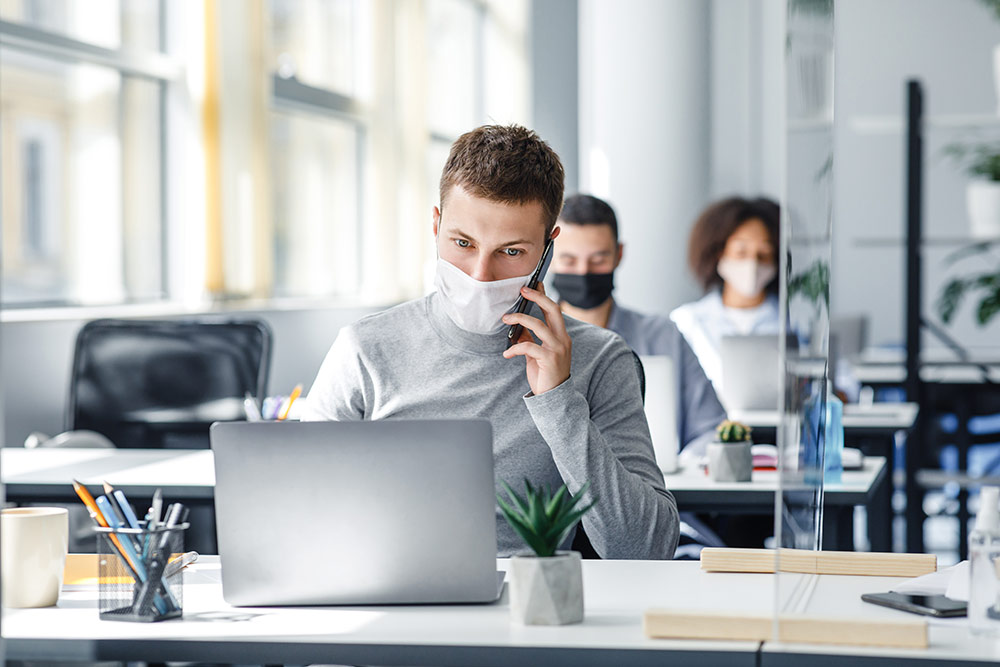 Working From Home vs. Office: Remote Costs
If lockdown has taught us anything, it is that many of the things we used to do at the office could be done at home as well. This has resulted in the growth of the remote workforce and more technologies popping up to serve the increased demand for flexible working conditions.
According to Gartner, as many as 74% of organizations are looking at switching some or all employees to remote work permanently.
While it is safe to assume that running a remote business can provide a range of financial benefits, there are still costs associated with this model, so let's take a look at the expenses you can expect when employing a remote workforce.
Remote Workforce Allowances
Thanks to the pandemic, which pushed millions of companies and workers into remote-working arrangements, remote work allowances have become relatively common.
It's not a requirement, but with the attitude change toward remote work, your employees may not be entirely thrilled to stay with your company if you don't offer some form of a stipend.
In terms of cost, there are differences depending on your industry and business model, but let's look at how some well-known companies use workforce allowances.
Twitter provides a $1,000 remote work allowance for its permanent remote workers, while Google and Facebook do the same for their full-time employees.
The above is a general one-size-fits-all fee, but you could also structure your monthly stipends into various categories.
For example, you could have a $100/month fitness allowance, a $1,000/year coworking space stipend, ―whatever fits your particular business and employees.
Productivity/Remote Working Tools Cost
Keeping productivity high and monitoring your employees' work in a remote setting will require some software tools. These tools can be cheap or even free, but if you want the best results, you'll likely have to pay.
Good project management software can help take care of resource allocation, timelines, collaboration and more. Many such tools are available on the market, each with its own business model.
Let's take a look at some of the most popular options and their pricing plans:
A Hybrid Workplace: The Best Of Both Worlds?
Businesses of the future will likely continue to use remote working to an extent, utilizing a hybrid blend of office and remote work. That said, having employees split time between the office and home has its downsides in terms of budgeting.
For example, if you're going to run a hybrid model, it doesn't make too much sense to rent an office space that can house your entire staff. That's just tossing money down the drain.
However, if you plan on holding in-house mandatory company meetings or events, then you'd have to ensure your office space can fit every employee.
It is best to think of the hybrid working model as a spectrum and find a place on that spectrum for your unique situation. Finding the right balance between running a remote business and having your whole team at the office full-time is the best way to achieve maximum efficiency.
Working From Home vs. Office: Which Is More Cost-Effective?
It would be difficult to argue against the cost-effectiveness of working from home.
Even with all the hidden expenses of running a remote business, such as allowances, equipment costs and remote working tools, working from an office is almost always going to be more expensive for the company as well as the employee.
However, there are many reasons you would choose to have your employees in the same building
Things like company culture, productivity, and time management can all suffer in a remote setting, not to mention the effect the lack of socialization may have on your employees' mental well-being.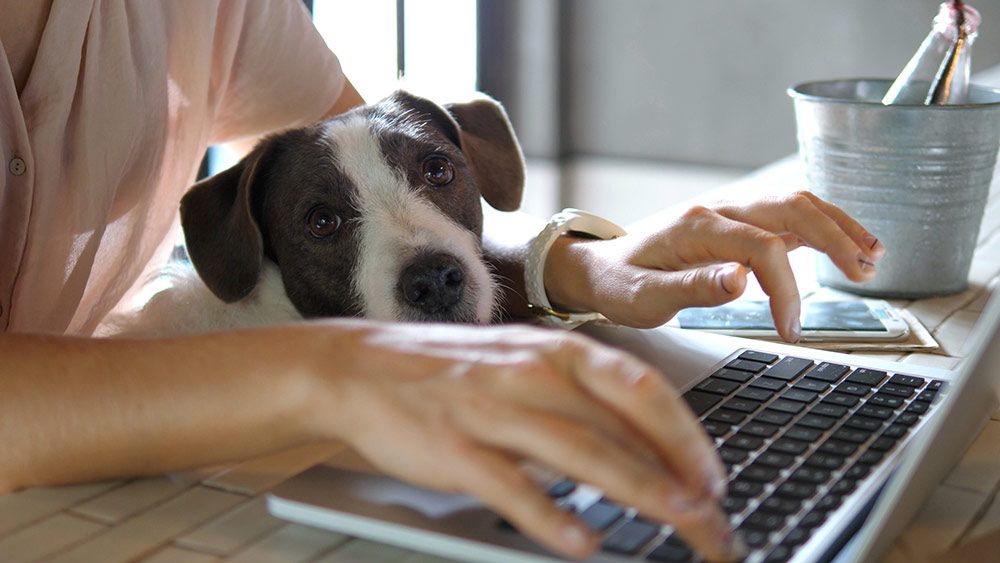 Working From Home vs. Office Takeaways
At the end of the day, whether you decide to run an office-based business, a remote operation, or something in between depends on your particular industry and the type of work your company does.
Here at Document Solutions, we offer competitive and reliable services including VOIP phone systems, printers and copiers, water coolers and managed IT services, regardless of what your workforce looks like in 2021 and beyond.
Interested in learning more about our services?
Contact us!