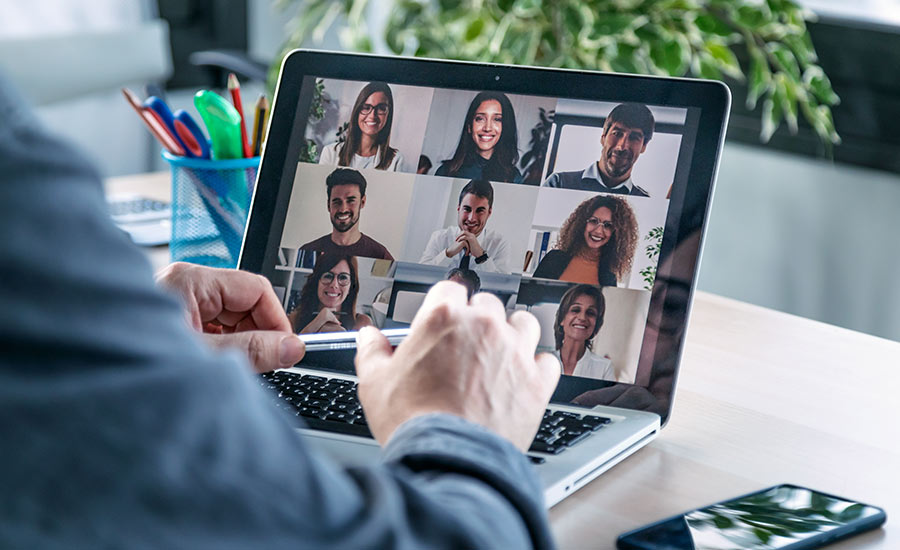 According to a recent survey, 86% of workers believe that remote work is the future of work.
Research by Enterprise Technology Research confirms this assertion: the percentage of employees permanently working from home will double by the end of 2021.
Moreover, a recent Gartner Survey states that over 74% of companies plan to permanently shift employees to remote work after the COVID-19 crisis ends.
The conclusion is inevitable: if you plan to transition your employees to remote work, now is the time to start preparing for it.
In this article, we will discuss what the future of remote work might look like, and define the steps you need to take to prepare your business for this major change in work organization.
What Will The Future Of Remote Work Look Like?
The COVID-19 pandemic pushed many businesses towards remote work and even hybrid working environments.
While the transition may initially take some time to get used to, over 87% of employees say that they are satisfied with their current remote work processes and tools.
Even more telling, 84% of employees said that their leadership knows how to operate their team and that they are able to accomplish all of their tasks when working from home.
In fact, according to a recent survey, over 50% of employees say they would like to work from home at least three days a week, and 30% would look for another job if they had to return to full-time office work.
Let's look at a few more significant numbers that hint at the future of remote work:
Employees aren't the only party benefitting from remote work. In 2015, telecommuting saved employers $44 billion in office usage and space rental costs.
Telecommuting also benefits the environment and is the road to a greener future: working from home reduces greenhouse gas emissions by an equivalent of 600,000 cars per year.
6 Steps For A Seamless Transition To Remote Work
For 27% of employees, communication is the biggest challenge regarding remote work.
The second-largest challenge is the lack of social opportunities and the absence of office culture, while the third biggest challenge is isolation and loneliness.
The way to tackle these challenges successfully and ensure remote work efficiency is to introduce certain company policies and best practices when transitioning to this mode of work.
Establish Your Remote Work Process & Policies
Remote work policies and processes should outline the set of rules that employees need to follow when working from home.
Your company's remote work policies should clearly communicate your expectations from your employees during their work hours.
Remote work processes that are realistic and adaptable will make it easier for your employees to understand how to manage their daily tasks.
A reliable way to define your team's daily workflow is to create a company Intranet — a set of internal documents that act as a blueprint for each department's best practices and processes.
Your employees should be able to access these documents from anywhere using their login credentials, and refer to them whenever needed.
Adopt Useful Work Tools & Platforms
Decide on the work tools that your employees will use daily to organize and deliver tasks efficiently.
There are numerous platforms for managing time, planning projects, delegating tasks, proofing documents and transferring files.
Using these task management tools while working remotely is absolutely essential to keep your entire team in sync with their day-to-day duties.
Some such tools include:
Task management tools such as Monday.com, ClickUp, Asana and Microsoft Teamwork
Video conferencing tools such as Zoom, Skype and Google Meet
File transfer tools such as WeTransfer and YouSendit
Document creation and storage tools such as Google Drive and Microsoft OneDrive
Decide on the specific set of tools your team should use, then outline clear instructions on how to use them in your workflow documents, ie. the Intranet from the previous step.
Define Communication Channels To Stay Connected With Your Team
Fast and efficient communication between team members is one of the most important considerations of remote work.
Since they can't walk over to a co-worker's cubicle to ask them a question, it's vital that your employees are available during set business hours to communicate, provide files, hop on a call and answer questions when needed.
Using instant chat tools such as Slack, Skype or Microsoft Teams ensures timely updates on employee availability, tasks and workload quickly and consistently.
Plan Work Thoroughly & Set Daily Goals
Decisionmakers and team managers should plan ahead and come up with daily objectives in advance, setting a priority level for each task, so there's never a question on what an employee should be working on when they begin their workday.
Employees should also keep track of their daily to-do lists that team leads and managers set for them in order to track their progress.
Creating a daily, weekly and monthly task calendar can help employees with time management and focus while they're teleworking.
Give Your Employees Time To Settle In
Settling in to something new can take some time, so remember to be patient with your team and provide them with all the tools they need from the get-go to be successful. This adaptation period is crucial for your team members to acclimate to their new workplace surroundings.
During the first few days and even the first few weeks of teleworking, you will likely encounter some trial-and-error scenarios where you need to alter your processes to find what works best.
Develop A Culture Of Trust With Your Team
Remote work truly puts the level of trust between you and your workers to the test. While teleworking, each employee is responsible for his or her own workload and time management abilities. Gone are the days of micromanagement.
It is important to find the right balance between managing your employees and allowing them the freedom to plan their workday as needed.
Of course, communication is key, but overdoing it may harm the professional relationship between you and team members.
Your employees will reward your trust in them to perform their work promptly. Putting confidence in your team members is vital for making your remote working environment a success.
Remote Work Best Practices For Your Employees
The future of remote work requires well-defined guidelines for daily operations that you and your employees should follow to a T.
In addition to the company guidelines we talked about above, your employees should also figure out ways to keep themselves on track with their work and maintain productivity.
When transitioning your company to a remote working environment, here are seven pieces of advice to share with your employees that can help:
"Figure out what makes you most productive:" Different things work best for different people. Let your employees know that they should experiment to find their own rhythm that keeps them the most productive. For example, give them permission to start their day at different times (if possible) and work from different places.
"Keep good meeting etiquette:" Setting a 'cameras on' rule during meetings can help make sure your employees are alert and engaged. Other teleworking best practices for meetings include requesting the meeting agenda ahead of time, taking notes and following up with the team when needed.
"Communicate clearly:" The communication dynamics between remote workers is different from office workers. You are restricted to chat apps and you may even need to talk to people in different time zones. Make sure your team communicates everything of note promptly and clearly, and they remain available when they're expected to.
"Set clear boundaries between work and your private life:" Work hours and private life often merge into one entity for remote workers. In fact, the biggest problem for 22% of remote workers is unplugging after work. This can lead to burnout and social isolation of your employees. Help them separate work from their personal life by insisting that they should stop working once their workday is done. Also, suggest a special workplace in their homes that they can physically walk out of and switch to their personal life when the workday is over.
"Be visible and proactive during work:" Instead of micromanaging, ask your employees to check in with you to provide status updates about their tasks and projects.
"Be accountable:" Distractions can hinder productivity. Consider asking your team to time and log their activities to help them stay on track, and/or to block off time on their calendar each day for time-sensitive tasks to ensure deadlines are met.
"Know your responsibilities:" To avoid duplicate work and wasted time ensure your employees clearly understand their responsibilities and tasks. Define responsibilities on each project, note who is responsible for what and share this with the entire team. Finally, confirm assignments with your employees.
Everything You Need To Know About A Hybrid Working Environment
If you or your employees are not quite open to either working from the office or working from home full time, there is a third option — a hybrid working environment — that is a compromise between these two.
A hybrid workplace will be one of the viable options for future of remote work, so let's dig into the specifics.
What Is A Hybrid Working Environment?
A hybrid working environment combines office work with remote work. Its goal is to provide an optimal balance of productive work, less commuting and reduced stress.
This working model offers employees autonomy and freedom around where they choose to work from. It provides an opportunity for employees to adjust their work around their private lives, rather than other way around.
A hybrid workplace looks different from company to a company. Some organizations require different people on the premises on different days. Others may request in-person presence only when there are meetings to attend.
This is an ideal working scenario for many companies because it blends work structure and sociability with employee autonomy.
Pros And Cons Of A Hybrid Work Environment
A hybrid work environment comes with certain benefits over fully remote work and office work.
The most notable advantages of this arrangement are:
Better work-life balance: A hybrid workspace prioritizes the employee. It reduces the stress and anxiety an employee may have about returning to a public workspace and commuting every day.
Cost reduction: With less need for larger offices, businesses can save money in office maintenance costs and real estate rent. Also, employees save money they would spend on public transportation or gas.
Crisis-resilient culture: Hybrid working environments can quickly and easily switch to a fully remote environment in case of a potential future lockdown.
Reduced spread of contagions: If employees don't feel well, they can choose to work from home and contribute to the safety of others.
Larger talent pool: A business that combines office and teleworking is not limited to hiring employees in specific regions and can employ the best talent from remote places.
There are also downsides to the combined working environments. If you don't properly execute a hybrid workspace plan, you risk creating a divide between workers who stay in the office and those who work from home.
The following disadvantages highlight the importance of a sturdy hybrid environment plan:
Not everyone has a home environment fit for work: Designated home workspaces, distraction-free environments and quality internet access may not available to all the employees within an organization.
Important info may be missed during meetings: When employees are unable to attend a meeting in-person but, rather, via video conference calls, it's easy to miss out on important pieces of information if they're distracted or zoned out.
There may be a perceived imbalance in worker output: Employees that work from home are less visible than those who work from the office. It is quite common for decisionmakers and managers to see employees in the office as those providing greater work output. This may result in remote employees being passed up for opportunities and awards.
Challenges in communication and collaboration may arise: Employees working remotely and those working from the office have different experiences during their daily work routine, which may cause issues in collaboration and communication.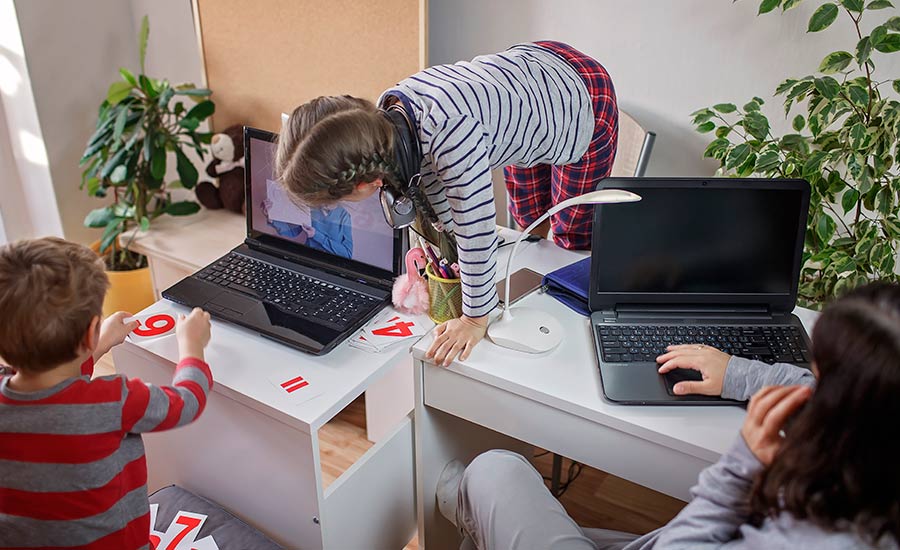 How To Implement A Hybrid Work Environment In Your Company
Before switching to a hybrid workplace, it is important to carefully implement your strategy and best practices for a painless transition.
Here are the most important steps to follow when implementing hybrid work culture.
Rely Heavily On Your Intranet
As we discussed in the "6 Steps For A Seamless Transition To Remote Work" section, storing all of your internal processes in one place, like your Intranet, can help ensure all of your employees are on the same page regardless of where they work from.
These documented internal processes play a vital role in providing a centralized source of knowledge employees can turn to at any time when they need guidance and assistance to tackle the task at hand.
Communicate Your Plan & Make Your Employees Part Of The Process
Keep lines of communication open throughout your company. All employees, whether remote, hybrid or in the office, should understand what you expect from them and what they can expect from your company's leadership.
Including our employees in the discussion related to a hybrid workspace environment – for example, questions on work organization and ideas on how to maintain productivity – your hybrid workspace initiative may end up being more successful. Your employees will feel more included and, therefore, more satisfied with the process.
Prioritize Safety In Your Physical Workplace
Keep in mind that your employees will be coming to your offices periodically; therefore, it is vital to adhere to all physical workplace health and safety requirements.
Follow your local authorities' health and work safety guidelines on the maximum number of employees allowed in a workplace, hygiene and cleaning practices, risk assessment and other relevant aspects of work safety, depending on your industry.
Establish Equity
One of the potential roadblocks for a hybrid work environment is that not every employee may be able to return to the office. For example, those living with young children or elderly parents.
Whether your employees continue to work remotely or switch to full-time teleworking, ensure they have the same opportunities for job success as those who come to the office.
Tap Into Your Company Culture To Balance Out Two Distinct Work Experiences
Keeping a unified workplace culture may prove to be a challenge when managing two different work experiences – that of working from home and working from the office.
Invest an equal amount of effort into your at-home employees and in-office employees. To keep both groups of employees connected to your business goals and values, use online collaboration tools and platforms and organize video conference meetings to keep everyone on the same page.
The Future Of Remote Work: Key Takeaways
The future of remote work is bright: following the global pandemic lockdown during which companies switched to teleworking, more and more businesses plan to make this work organization permanent.
To successfully adapt to remote work:
Define specific remote work processes
Adopt helpful tools and platforms
Establish communication channels
Set daily goals for all employees
Allow your employees time to settle in
Trust your team
Document Solutions provides Managed IT services, maintenance and support for remote work and hybrid work organizations.
From VoIP phone services to secure networks no matter where your employees work, we can help you create a reliable remote work infrastructure that ensures your team's maximum productivity at all times.
Ready for a smooth transition to remote work?
LET'S TALK!