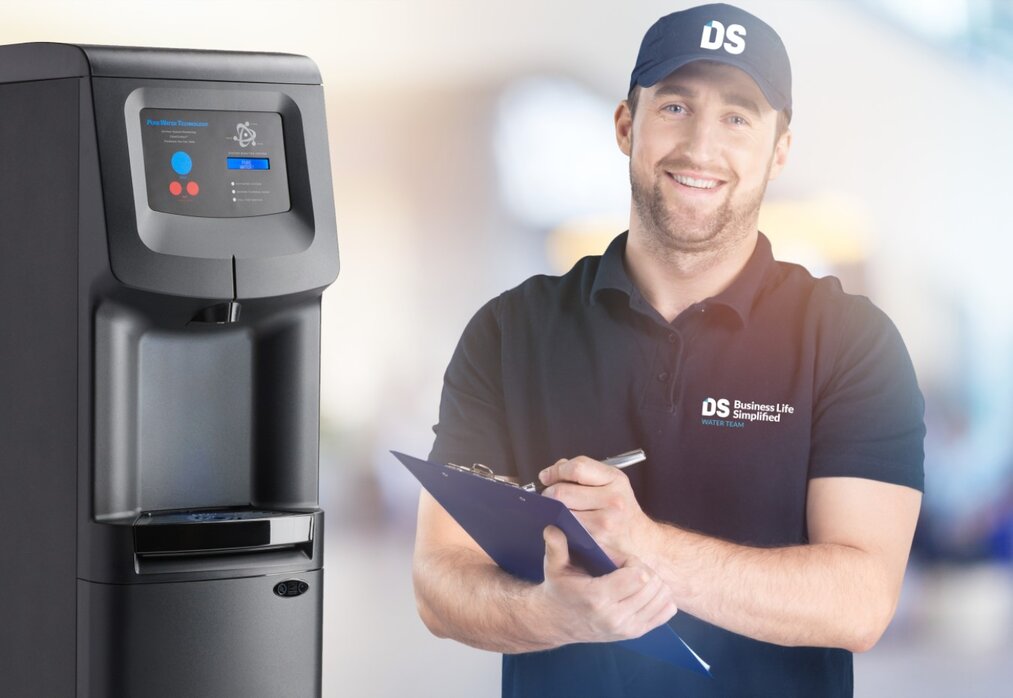 As a result of the COVID-19 pandemic, the global water dispenser market is anticipated to grow at a CAGR of 7.35% from 2020 to 2026.
Touchless water coolers specifically are increasing in popularity, thanks to their ability to eliminate human contact and increase safety measures around your healthy office.
In this article, we will compare bottled water vs. water coolers that offer touchless solutions, provide six benefits of upgrading to a bottleless water cooler, and share details about our own hydration systems at DS BLS.
Let's Define Bottled Water & Water Coolers
When we refer to bottled water, we're not simply talking about the individual bottles you buy at the grocery store.
We're also referring to those traditional water coolers you've likely seen in various offices. You know — the contraptions that have a bulky water jug attached?
You may have noticed the amount of space these contraptions take up, or perhaps you've witnessed an employee awkwardly changing out the jug.
And don't get us started on the nightmare of unintentionally getting sprayed with hot water when you have to manually push the lever for water to be dispensed.
Ouch!
As much as we'd like to forget those outdated water coolers, bottled water coolers paved the way for better technology when it comes to having easy access to safe and quality drinking water.
From sensor dispensers to pedal-operated touchless water dispensers, touchless water dispensers have come a long way to lessen, or rather, diminish the challenges that came with bottled water coolers.
What Is the Difference Between Bottleless & Bottled Water Coolers?
Let's look at the main ways bottleless water coolers differ from bottled water coolers:
Unlike bottled water coolers which serve as a breeding ground for germs, bacteria and viruses, bottleless water coolers use self-cleaning and hygienic technology
Bottleless water coolers only need to be cleaned every 90 days, while bottled water coolers require a bottle change every six weeks
While water jugs from bottled water coolers take up a decent amount of floor space, bottleless water coolers don't require jugs, freeing up more space in the workplace
Bottled water coolers increase safety risks due to the number of employees that interact with them, while bottleless water coolers have sensory or pedal-use features so contact is not needed

6 Reasons To Switch To A Bottleless Water Cooler
Like traditional bottled water coolers, the main function of a bottleless water cooler is to provide easy access to clean drinking water, but with additional safety and sustainability features.
Let's look at six benefits of switching to a bottleless water cooler.
1. It's Easier To Clean & Maintain
Bottleless water coolers offer a state-of-the-art, self-cleaning technology that ensures your water is pure. They also provide built-in features such as ultraviolet (UV) sanitization technology and an anti-microbial touchpad for safe contact.
UV sanitization is a crucial feature of these systems because it kills micro-organisms, bacteria and germs that are notorious for spreading diseases.
In addition, bottleless water coolers are a breeze to clean since most of the surface area is flat. You don't have to worry about missing dirt in hard-to-reach areas.
The best part?
Bottleless water coolers only need to be cleaned every 90 days, unlike bottled water coolers, which require a bottle change and cleaning every six weeks.
2. It Prevents The Spread Of Potential Diseases
Bottleless water coolers provide a hands-free solution, which is especially sought-after in today's post-pandemic environment.
Since you don't have to physically touch a bottleless water cooler to dispense water, this instantly reduces the spread of germs.
But what about your container coming in contact with the dispenser's nozzle?
With bottleless water coolers, recessed nozzles are used to remove contact between the dispenser and your container, adding to the safety features.
3. It Eliminates Unnecessary Human Interaction
According to a 2020 CDC study, COVID-19 can be passed from person to person, even just from brief interactions.
A bottleless water cooler eliminates the need for water jug deliveries, which can help cut down on the amount of people coming in and out of the office.
Our water coolers don't require heavy water jugs or deliveries from water companies, because the water comes from a water line.
4. It Promotes Sustainability
A 2017 study found that the annual consumption of plastic bottles is set to top half a trillion in 2021.
It's no secret that plastic bottles serve as one of the biggest contributors to plastic pollution.
Bottleless water coolers eliminate the need for plastic water bottles. Once your water cooler is hooked up to a water line, it will dispense clean water from your local water source.
In fact, one study found that if you refill your personal container once per day for a full year, instead of purchasing plastic water bottles, you can reduce your carbon footprint by around 19 kg.
How's that for saving the planet?
5. It Saves Space
If you use a bottled water cooler, you need to have space for backup water jugs. If you've ever worked in an office with this type of water cooler, you've likely seen a storage closet or small room packed with plastic jugs.
Once you implement a bottleless water cooler into your home or workplace, you won't need space for anything other than the cooler. It saves floor space and reduces the need to store bulky items.
6. It Saves You Money
 Did you know that you could save up to 70% by switching to a bottleless water cooler with DS BLS? You can drink as much water as you want at no extra cost.
We also offer free installation and unlimited filter changes and maintenance. You can ensure your water is always pure and your cooler is working properly, cutting down on extra costs for bottles and maintenance.
Office Water Cooler Solutions At DS BLS
At DS BLS, we offer bottleless water coolers in the New York and New Jersey areas so your household or workplace can have access to clean water that's safe and also sustainable.
At DS BLS, our safe and sanitary hydration stations:
Eliminate the need for water bottle storage
Reduce workplace injuries by removing the need to lift heavy water jugs
Decrease your carbon footprint
Reduce the spread of germs thanks to the antimicrobial touchpad feature
Provide unlimited pure water at one price
Remove lead from your water
Use pedal-operated touchless water dispensers and sensor dispensers for a hands-free solution
When you purchase a bottleless water cooler at DS BLS, you benefit from:
Touchless sensor activation: Our water coolers are hygienic and provide touch-free operation
Cleancontact™ anti-microbial service: Our water coolers maintain cleanliness by using an organic anti-microbial coating that protects against cross-contamination of germs
24/7 system monitoring: We ensure that your water cooler has the best system performance and water quality
Service notification light: With our technology, your water cooler will notify you when service is needed
Activated oxygen self-cleaning: Our water coolers are equipped with advanced technology to maintain water cleanliness
Advanced drip tray: A high-capacity drip tray helps eliminate the need for constant emptying
High capacity: Our water coolers can store up to three gallons of water, ensuring a constant water supply
Optimal dispense height and area: An ergonomic design leads to "no-bend" dispensing
Dispense area light: The dispensing area is illuminated for precise dispensing
Blüv protection: Our water coolers emit a safe UV light during the purification process, killing harmful bacteria and viruses
Pure touch dispenser: An ideal dispense height and large dispense area prevents contamination of the dispense nozzle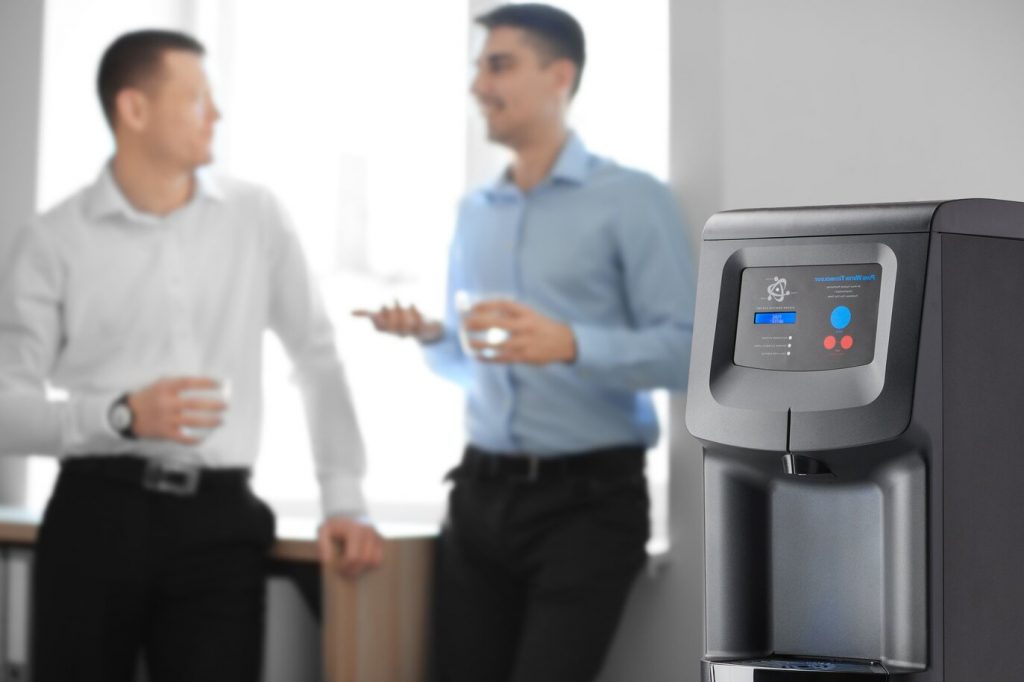 Bottled Water vs. Water Coolers: The Verdict
While traditional water coolers have been an office staple for years, the technology provided by bottleless water coolers allows us safer and more sustainable access to clean drinking water.
The top benefits of a bottleless water cooler include:
It's Easier To Clean & Maintain
It Prevents The Spread Of Potential Diseases
It Eliminates Unnecessary Human Interaction
It Promotes Sustainability
It Saves Space
It Saves You Money
With our bottleless water cooler solutions at DS BLS, you can reduce the spread of germs around the office, eliminate the need for storage and deliveries, reduce your carbon footprint and ensure unlimited access to pure drinking water around the clock, complete with unlimited filter changes and maintenance.
It's time to upgrade from outdated, bulky solutions and enjoy the benefits provided by sustainable, advanced technology. In our opinion: Bottleless water coolers take the cake. There's no doubt about it.
Interested in our office water cooler solutions?
Contact us!