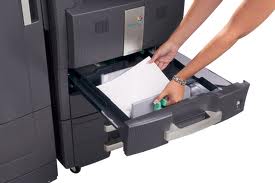 Maintaining the integrity of your paper is essential to avoiding unnecessary service calls, especially during the warm summer months.  If your copy machine or printer is experiencing recurring jams, it may be that the paper has been exposed to humid conditions, degrading its strength and quality.
To prevent recurring jams due to degraded paper quality, always store your paper in its original box with the lid on.  The cardboard will act as a moisture barrier protecting your paper from humidity.  Opened paper should be kept in a sealed plastic bag.  Discard any paper that appears uneven, bumpy, or has previously been exposed to moisture.  Damage can occur in as little as two hours, so don't leave paper loaded in the tray when the machine is not in use.
These simple solutions can save you precious time and money; both of which are better spent on an enjoying your summer.