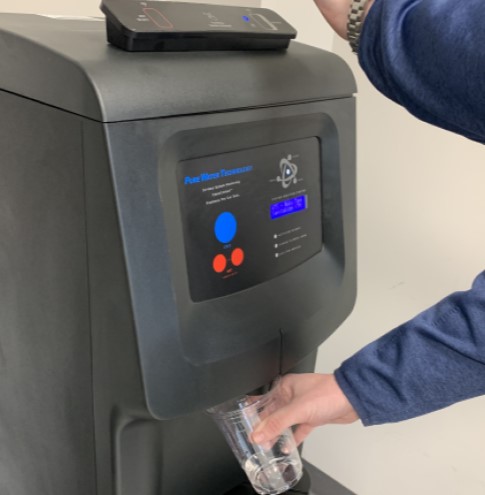 The work environment changed during the COVID-19 pandemic and it's quite possible it won't ever be the same as before, even when the pandemic is over.
We've witnessed the evolution of contactless payment, contactless delivery, contactless ATMs and now – contactless water coolers.
Why would touchless water filling stations and pure water technology be good solutions for your business in the time of COVID-19? How do they work and how can you make sure you choose the right one?
Here, we answer all these questions for you, and more.
Back to The Office: New Realities & New Standards
Research shows that the number of people working from home across the US grew from 31% to 62% in only three weeks – from March 13 2020 to April 2, 2020.
However, the same study showed that 41% of employees working remotely due to COVID-19 preferred returning to the office in the same capacity as before the pandemic.
As many businesses start to bring employees back to office, McKinsey's research shows that now is the best time for leadership to ensure both productive and safe work environments.
The research concludes:
"Ultimately, the aim of the office life reinvention after the pandemic will be what companies have always wanted: a safe environment where people can enjoy their work, collaborate with their colleagues and achieve the objectives of their organizations."
Nowadays, of course, a safe environment doesn't mean only secured, but most of all – sanitized.
In July 2020, The Centers for Disease Control and Prevention (CDC) issued a guide for cleaning and disinfecting workplaces, offices, public spaces and other areas.
This guide can be used to:
Develop a cleaning plan
Define sanitary needs
Consider the equipment needed
These new sanitation rules and standards may influence current office trends. To reduce the risk of exposure to coronavirus, office managers need to break out of old habits.
What does that mean?
It means finding new solutions for office technology and equipment.
And a hands-free water dispenser is just that.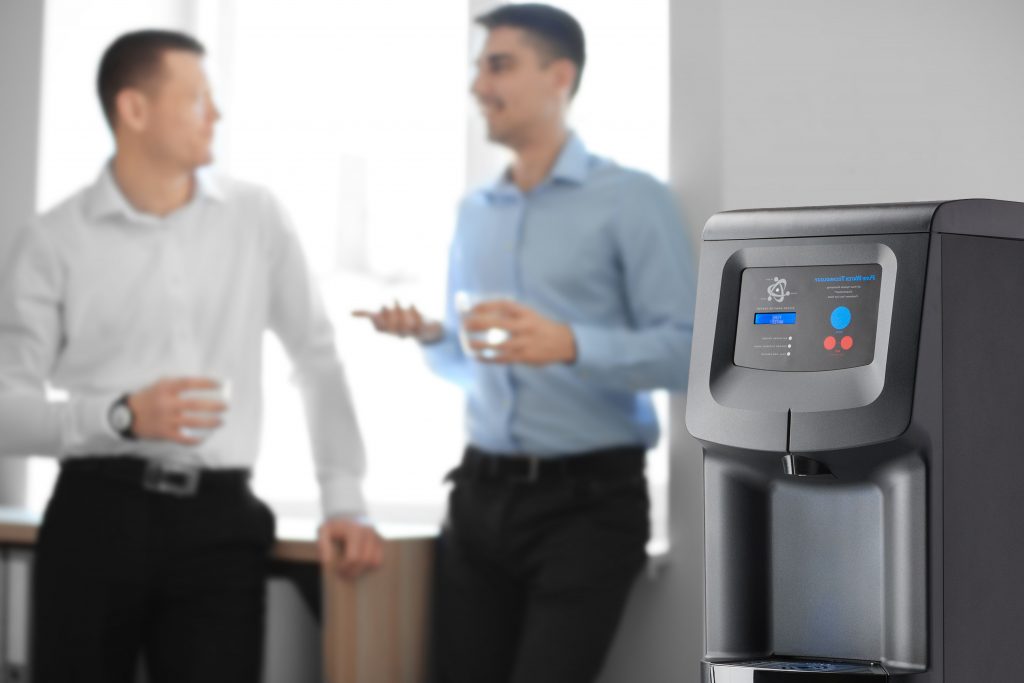 Key Benefits of Hands-Free Water Coolers
Think of it this way: your water dispenser buttons and touch pads need to be cleaned and disinfected more thoroughly than ever before, especially if positioned in a large, heavily frequented breakroom, open-space office or a co-working place.
But if you transition to a touchless water solution, you can:
Save time and money
Introduce a hygienic option
Use state-of-the-art technology
Guarantee high quality of water
Offer a safe, easy-to-use water station
Contactless methods have been developed as a response to the enhanced need for sanitized office water solutions.
Keep in mind that touchless solutions are typically applicable to bottleless water coolers.
Bottless water coolers are dispensers with integrated water supply systems that eliminate the need for bottle storage and reduce the environmental impact of bottled water.
Is a bottle-free system better for water management during the COVID-19 than a regular, bottled system?
Yes, it is. And here is why:
There is no need for a recurring bottle delivery service
Its management and maintenance include fewer people
It is cleaner, safer and it can easily become touchless
It lasts longer and acts as a more cost-effective solution
Its advanced technology offers self-cleaning options
What Types of Contactless Office Water Dispensers Exist?
There are three main types of hands-free dispenser activations for touchless water cooler management that we added to our offer as a response to COVID-induced needs:
Foot pedal control
PSD sensor technology
Touchless water filling station
Let' take a closer look at each.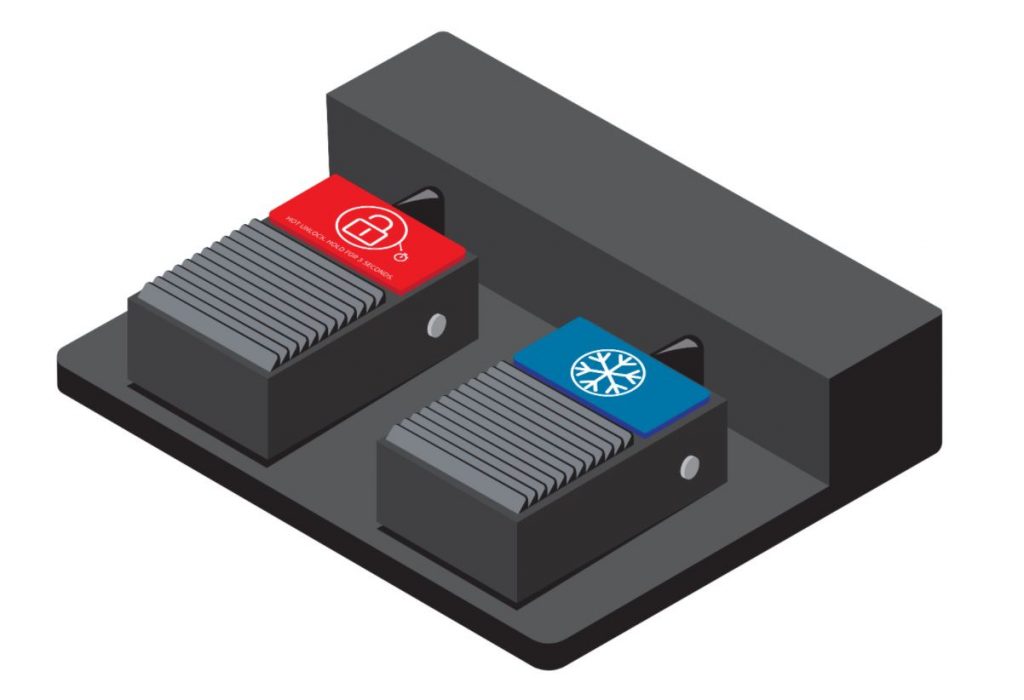 Foot Pedal Control
This is a simple solution that can help you sanitize your office water station by applying it to a bottleless water cooler.
Pedal control can include:
A single pedal
A dual pedal
A single pedal is easily installed to a water dispenser to create a hands-free setup in the COVID-19 era. It consists of one durable pedal that works as a touch-free activator.
A dual pedal has separate functions for hot and cold water, which makes it even simpler and more intuitive for everyday use. You can quickly integrate dual pedal control with your existing water cooler.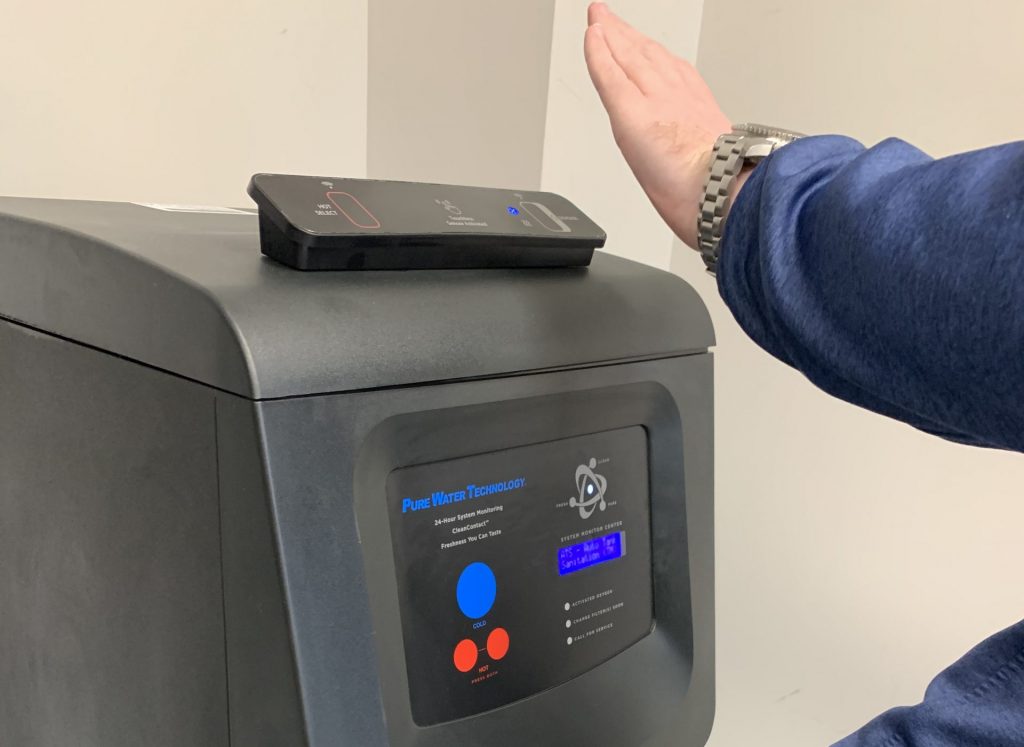 PSD Sensor Technology
The latest PSD sensor from Pure Water Technology offers a touchless option for hot and cold water.
This is also an easy-to-use solution that can be added to a bottleless dispenser in your office. It's based on a plug-and-play installation, so you can have it up and running within a few minutes.
Its large, intuitive pad activates the water cooler with a sensor technology, without the need for physical contact of any kind. Plus, its sleek design will add a touch of luxury to your office equipment.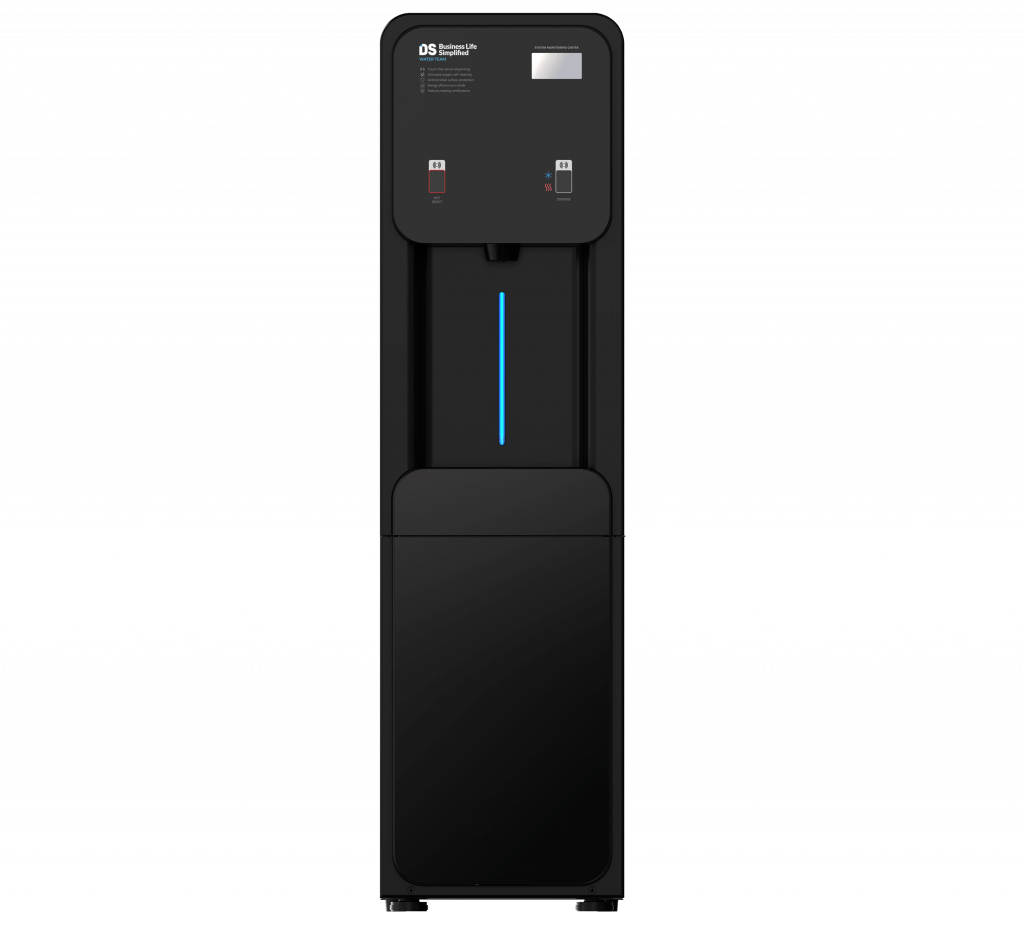 Touchless Water Station
If you want an innovative standalone water station for your office during the pandemic and beyond, then a touchless water filling station is the right solution for you.
Our recommendation: PW90 Series from Pure Water Technology.
This is the latest addition to our water coolers and it is the most technically advanced office water solution on the market.
Some of its features include:
Touch-free sensor activation
CleanContact™ anti-microbial surface
Diagnostic center with 24/7 monitoring
Activated oxygen self-cleaning
Advanced, high-capacity drip tray
Constant supply of cold water
Spacious dispense area for refillable bottles
How to Switch from a Bottleless Water Cooler to a Touchless Water Station
Tranistioning from a bottleless to a touchless (and bottleless) water cooler will depend on your business requirements, office needs, machine capabilities and personal preferences.
For example, if you already have a bottleless water cooler in your office and you want to transform it into a contactless station, you can use single or dual foot pedals as an add-on solution.
The same goes for a PSD sensor which you can apply to a bottleless dispenser and turn it into an innovative, safe solution.
On the other hand, if you are looking to upgrade your office equipment, reinvent your work environment and be prepared for the future of work in the post-pandemic era, you may want to consider a touchless water filling station.
Whatever you choose, you will be able to provide your team with peace of mind by letting them know they can stay healthy (and hydrated!) at work while also being equipped with safe, contactless water coolers.
Touchless Water Filling Station: Key Takeaways
Since the start of the COVID-19 pandemic, work life has changed for a majority of workers, both across the US and around the world. Today, many businesses that originally switched to a fully remote workforce are now seeing employees back in the office, with proper safety measures in place.
If your employees are working in an office or if you've implemented a hybrid remote working model, it's more important than ever to ensure your work environment is as safe and as risk-free as possible.
The CDC guide can help you navigate cleaning and disinfecting offices and other areas. And to improve safety measures, you can add a simple yet oh-so-effective solution to your office – touchless water filling station.
It can be a standalone station or an add-on solution to bottleless water coolers, depending on your needs and requirements.
Whether you choose a single or a dual foot pedal, PSD sensor technology or a complete station, here are some of the benefits you'll see:
Reduced overall water costs
Innovative hygienic solutions
Quick, plug-and-play installation
Safer office environment
Fewer people involved
Long-lasting equipment
Sanitized office water solutions.
All in all, this approach will enable you and your team to use touchless water dispensers for healthier, carefree office hydration during the pandemic and beyond.