When it comes to office equipment, knowing and understanding the differences between different products, different brands, and different systems is absolutely key to knowing just where to dedicate your budget. Here at Document Solutions, we offer a massive range of office equipment, office supplies, and office printers and copiers that help to suit the needs of today's businesses.
In the world of printers, technology has come a long way since the old days of paper jams, fast-depleting ink cartridges, and lackluster photocopies. In fact, we're proud to offer our clients some of the most exciting printer products currently available on the market.
Let's take a deeper look into two of our most popular printer models that we currently offer, the Konica Minolta Bizhub 4052 Monochrome Compact Multifunction Printer, and the Ecosys M3645idn Black & White Multifunctional Printer.
Both of these are outstanding printers, but they come with some distinct differences. Let's take a look below to help you decide which one is best for you!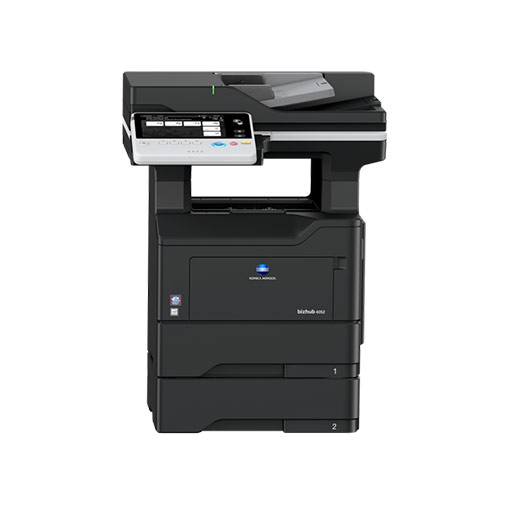 The Bizhub MFP is the ideal modern-day office printer. Fit for a number of different jobs, this compact desktop office printer offers extremely fast prints and copy output of up to 42 pages per minute, with an additional stapler inner-finisher option available for use to help make compiling those lengthy packets and documents easy.
The simple, easy to use 7" touch screen provides logical menus with an intuitive interface to help make navigating the various menus quick, easy, and user-friendly – even for those with little computer backgrounds.
Capable of standard wireless connectivity, the Bizhub supports most mobile printing applications, including Apple's AirPrint, Google's Classic Cloud Print, and NFC. The interface even includes a standard web browser to help you make quick decisions while waiting for your prints or copies to be completed. With downloadable applications to help ensure that you increase workplace productivity, the Bizhub is truly a modern office printer that offers modern solutions, for a modern business world.
Ecosys M3645idn Black & White Multifunctional Printer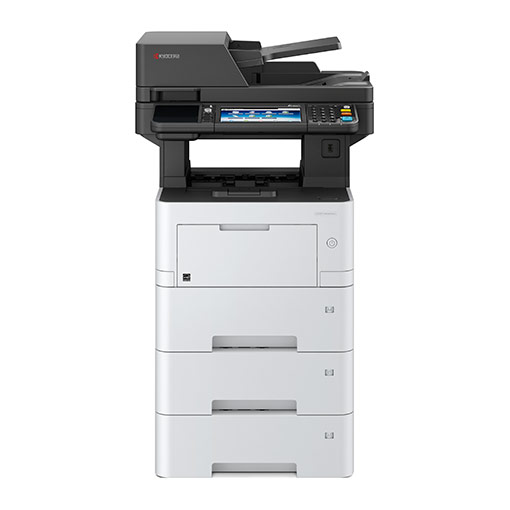 If you're interested in modern, yet basic office printer, the Ecosys M3645idn will certainly give you a run for your money. As an exceptional office printer, this compact machine delivers stunning black and white prints and copies up to A4 size paper. With fast processing speeds, it's capable of printing up to 47 pages per minute.
The printer features a simple, and easy to use 7" color touch screen interface to make navigating the various menus simple, easy, and intuitive – even for people new to this type of printer technology. The M3645idn supports a number of wireless printing capabilities, including Apple AirPrint, Google Cloud Print, and Mopria Print Services, to help make your life more convenient.
And to drive efficiency, workplace productivity, and convenience even more, the M3645idn supports HyPAS Business Applications integrations to help improve your workflow and place everything you need all in one place.
For a compact printing solution, there may not be a better choice!
Whether you purchase or lease A Bizhub or Kyocera copier, Document Solutions' Pro Tech Service 2019 makes it the best copier service provider for new or used copiers in New York City or New Jersey.
Contact Document Solutions at:
212-468-5200 or 908-653-0600 Or email us at [email protected]