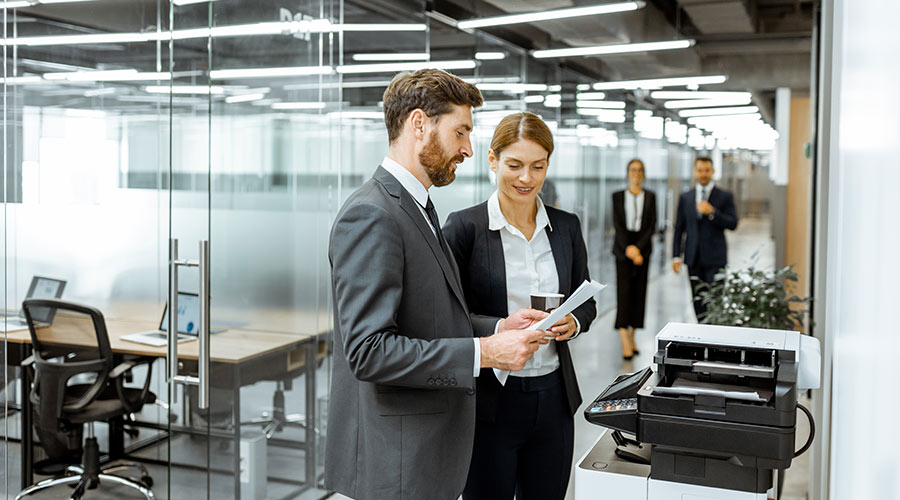 "Our office copier has been underperforming lately, we might need to replace it soon. Should we buy a new one or is it better to lease it?"
"There are so many different models – how do we choose the right one?"
If you run a small or medium-sized business, you may have had a similar conversation with your office inventory manager. We understand. When it comes time to purchase new office technology, it really is hard to decide.
That's why we're here — to answer the most common questions about office copiers. We'll also help you decide if a single-purpose or a multi-function device is a better fit and whether you should buy or lease a copier for your business.
Let's start by explaining the difference between printers and copiers, to avoid any confusion.
What Is the Difference Between a Copier and a Printer?
A copier is a machine that makes exact copies of text documents, photographs, drawings or anything else that is already on paper. It is typically a standalone piece of equipment.
A printer is a machine that prints text or images onto paper. It is typically linked to a computer via a cable or through a wireless connection.
In addition to single-purpose machines that may better suit small teams, there are also multi-functional devices.
A multi-function printer (MFP) is an all-in-one device that might be the best solution for medium-sized businesses and larger teams. It's an office machine that encompasses the functionality of multiple devices in one, typically able to act as a copier, printer, scanner and fax machine all at once.
Now that we've defined these essential terms, let's answer the five most common questions about copiers to help you learn more about office copier management so you can find the right fit for your needs.
Question #1: How Does a Copier Work?
Here is an (over)simplified explanation:
After you place a document on the glass screen of a copier and the green light scans it, it only takes several seconds for the exact copy of your document to magically appear.
Even though it may seem like magic, it's actually physics – copiers work on the principle of static electricity.
There are three core elements of a copier's work process:
The laser: Used to transfer the exact image of the document onto the drum
The drum: The part located at the heart of a copier that gets positively charged using static electricity and then attracts particles of the toner
The toner: A powder used to print text or images onto the paper that comes out on the side of the machine
Note that the powder toner is a dry toner, typically used in the majority of desktop and office copier systems. The toner can also be liquid – composed of dye or acrylic resin particles.
However, the drum is the most important part of the copier machine. It's also the most delicate element that should be regularly checked and cleaned.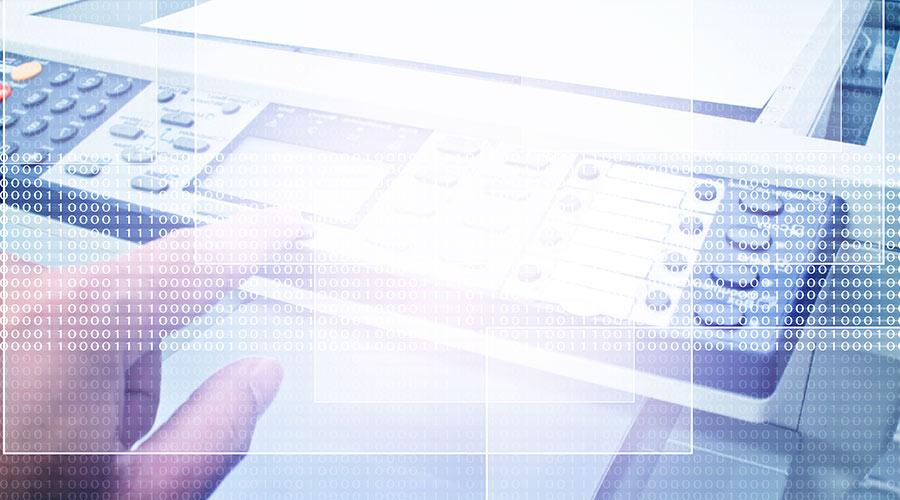 Question #2: How Do You Clean a Copier Drum?
If the drum gets stained, print quality may significantly drop. This may result in copies lighter than the original, pale image colors and other noticeable malfunctions.
To clean the drum, you'll need:
A soft cloth
Isopropyl alcohol
You can clean the drum without removing it from the cartridge. Simply rotate the drum bit by bit and wipe the affected surface areas with a soft cloth wetted with alcohol. Wipe in one direction only. The alcohol will evaporate quickly, leaving no residue.
Try not to scratch the surface of the drum. Don't touch the drum with your fingers, as it can be damaged that way.
Also, keep in mind that the drum is light-sensitive. Any exposure to light can damage it. Once damaged, the drum cannot be repaired.
If you're not confident about cleaning the drum on your own, or you're not sure how to remove the damaged drum and install the new one (which should also be done with extreme care), you can reach out to copier repair experts in your local area for professional help.
Looking for copier repair in New York or New Jersey?
Get in Touch!
Question #3: What Does Collate Mean on a Copier?
As defined in the Merriam-Webster dictionary, the word "collate" means "to assemble in proper order."
The collate function on a copier means that each of the printed copies (out of multiple copies) will be arranged in a specific order, as a set.
For example, let's say you have a 50-page document and you want to make three copies of it.
Choosing the collate option on your copier means that the machine will copy all 50 pages first, then repeat the process a second and third time.
If you don't select the collate option, the copier might make three copies of page #1, three copies of page #2, three copies of page #3 and so on, until it reaches page #50. In this case, you'd be left to organize 150 pages on your own.
Question #4: How Much Does It Cost to Lease a Copier?
The cost of a copier rental depends on the type of machine you choose, its features and other factors, like the equipment rental costs in your local area.
For example, leasing a copier in New York or New Jersey may cost:
$100 per month to lease older and/or used light-volume copiers
$650 per month to lease brand new heavy-workload copiers
$950 per month to lease state-of-the-art multi-function copiers
The lease period will be defined by a contract with an equipment rental company. The term typically ranges from 38 to 60 months.
Question #5: Who Makes the Best Office Copiers?
Some of the best-performing copiers on the market come from renowned manufacturers like Konica Minolta, Xerox, Canon, Kyocera and others.
But not all office copiers are created equal.
The best solution for your business will depend on your business type, monthly copying volume and the long-term business development goals you want to achieve.
For example:
If you run a small business and your team copies less than 50,000 pages per month, you might need a compact copier that will fit your office space. In this case, you might want to consider Konica Minolta Bizhub 3320 or similar solutions.
If you run a medium-sized enterprise and you expect your printing, copying and scanning volume to go up to 150,000 pages per month, you might need an all-in-one solution that will meet the requirements of multiple departments in your company. In this case, you might want to consider Kyocera TASKalfa 3212i or similar solutions.
The bottom line: Choose an office copier that can meet your business needs – not only the ones you have today but also the requirements that might emerge as your business grows.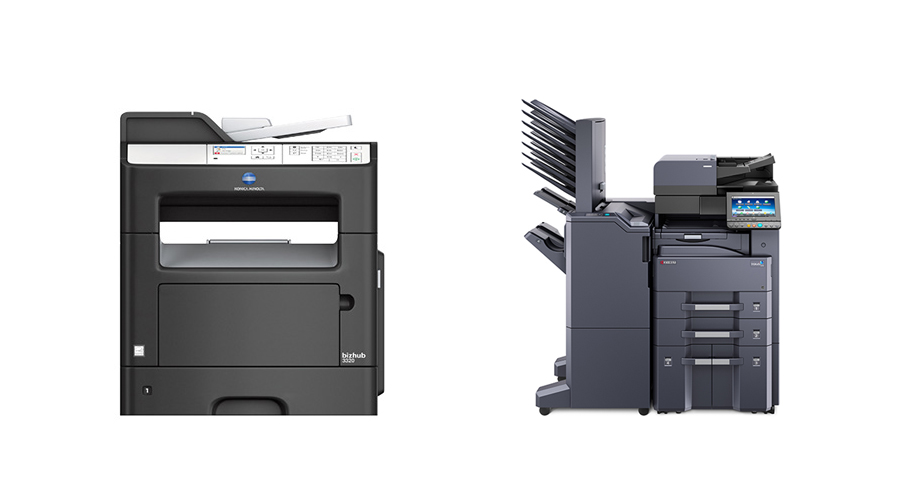 Should You Buy or Lease a Copier for Your Business?
This is another important question about office copiers.
To answer it, you should first evaluate your office needs.
Start with these questions:
What is your current scope of printing/copying volume?
Do you expect that volume to grow substantially in the future?
Do you typically use a single-purpose copier or do you need an all-in-one solution?
Do you hire trained technicians? Do you plan to hire them in the near future?
Do you feel confident enough to manage and repair copiers on your own?
Would you prefer outsourcing printing services to office equipment professionals?
To help you decide whether to buy or lease copiers for your business, let's sum up the benefits of each option.
In a nutshell:
Buying a copier may be a better solution if your company has in-house technicians and a large scope of printing needs that will likely increase in the future.
Leasing a copier may be a better solution if you don't hire specialists internally but you still want high-quality equipment, as well as the opportunity to lease the latest models once the next lease term begins.
Note: If you are not sure how to evaluate the scope of your copying needs on your own, you can team up with a managed print services provider to benefit from expert guidance.
Key Takeaways About Office Copiers for Small and Mid-Size Businesses
Let's sum it all up.
First, it's important to evaluate your specific needs. Then, you can feel confident enough to decide whether a single-purpose office copier will do the work for your team or a multi-function device is a better solution.
Now that you've learned how copiers work, how to clean the drum and how to use various functions, you can choose to manage your office equipment on your own or hire in-house technicians to help you.
On the other hand, if you don't plan to hire specialists internally, you can opt for a print services provider to help you manage document production and distribution for your office setting.
And last but not least, you can decide which would be the most cost-effective solution for your business – to buy or lease a copier.