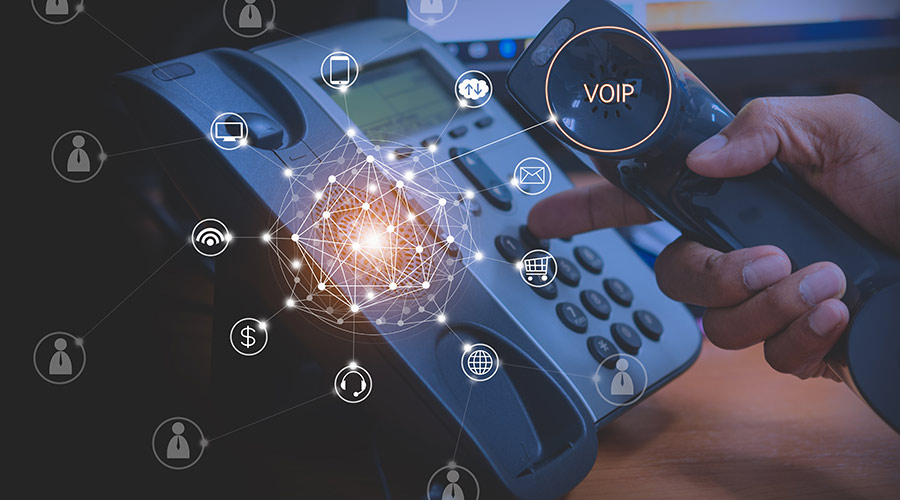 Did you know that in 2019, 83% of companies lost a customer or an employee due to a communication-related issue?
In today's technological climate, losing out on revenue due to a communication issue seems highly preventable — and it is! By simply adopting an alternative telephone technology, you can prevent such issues, and your business can even achieve a cost reduction of up to 75%.
VoIP is the solution you need to increase customer and employee retention and cut your operating costs.
In this post, we will answer the five most common VoIP-related questions, such as "what is VoIP phone service?" and "how does it work?" We'll also explain six major ways VoIP can benefit your business.
What Is VoIP Phone Service?
VoIP (Voice over Internet Protocol) phone service is a technology that lets users make phone calls using an internet connection, without the need for local phone service.
It uses a high-speed internet connection and Internet Protocol (IP) addresses — the same way computers communicate with each other on the internet — to transfer data via interconnected networks.
VoIP has become the communication method of choice for both individual consumers and businesses, thanks to the rise of broadband data transmission. It provides more capabilities than traditional phones, at a much lower cost.
VoIP capabilities include:
Call recording
Call forwarding
Conferencing
Voicemail to email/text
Custom caller ID
Auto attendants
Remote calls
To help you uncover everything you need to know about VoIP, we'll answer the most common questions.
Question #1: How Does a VoIP Phone System Work?
All you need for your VoIP phone system to work is a broadband internet connection.
VoIP converts phone call information into packets of compressed data and sends it via the internet. VoIP phone calls travel through Ethernet cables or a strong Wi-Fi signal.
The service then transfers this data online using IP addresses, instead of the wire infrastructure used in landline systems.
VoIP phone calls are exchanged via small data packets that can travel around the world in less than a second, thanks to internet satellite communication.
Here's how a VoIP phone system works:
Your VoIP phone connects to your Local Area Network router
The VoIP phone informs your VoIP service provider to make the call when you dial a telephone number
Your VoIP service provider establishes the connection and exchanges your phone call data packets with the person you called
The VOIP phone converts your voice into digital signals and transmits them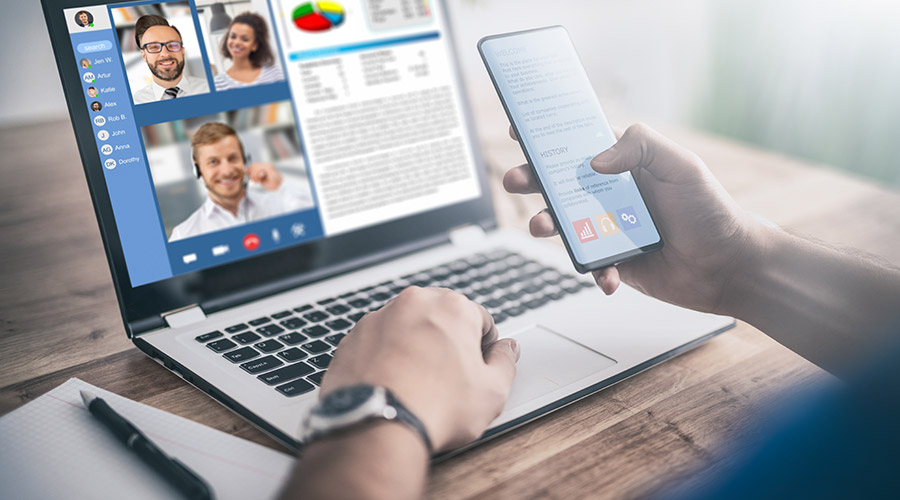 Question #2: What Are Key VoIP Phone System Features For Businesses?
VoIP phone systems come with built-in features that can benefit your business in many different ways. Here are some of the key features:
Mobile and desktop apps: These VoIP apps let you make phone calls, join conference calls and send text messages from your computer or mobile device. They are especially useful for businesses and staff members that work remotely.
Auto attendants: This phone menu feature greets incoming calls, directs callers to the right department/person or forwards calls to a voicemail. For example, when you dial a bank and the automated voice says something like, "press 1 to talk to a support agent,", that is auto attendant in action. This feature helps project an overall professional business image.
Unified communication platforms: This feature integrates your company's communication channels into a single platform. A unified platform's functions include instant messaging, team chats, screen sharing and video meetings that make real-time communication more efficient and simpler.
Call encryption and security: VoIP phone system have built-in security that protects confidential information your phone calls may carry. VoIP technologies can scramble and encrypt call data, but it's also important to make sure that your VoIP service provider is accredited and meets the industry's safety standards.
Call recording: VoIP systems allow secure call recording for authorized personnel. VoIP call recording is undetectable and requires no additional hardware. The useful hidden benefit here is that it can help you identify areas for your team's improvement during phone calls with customers.
Question #3: What Is a Fixed VoIP Phone Number & What Is a Non-Fixed VoIP Phone?
A fixed VoIP phone number is an internet phone line tied to a real address and an account owner, such as a company office or a residential address. In this case, the subscriber location matches the phone user identity.
Fixed VoIP numbers are rarely used by scammers because they are easy to trace. For this reason, a fixed VoIP phone number is perceived as more reputable and dependable.
For your business, this means that call recipients will feel more willing to answer your calls because fixed numbers exude trust.
A non-fixed VoIP phone number, or a virtual phone number, is not associated with a physical address or account owner and therefore can be linked to any geographical location.
Non-fixed VoIP phones are a convenient method for calling clients and partners in different countries and areas where your business is not physically present. It is also a great solution for telecommuting and remote work.
Non-fixed VoIP phone calls are provided by technologies like Skype, Slack and Google Meet. Because it is easy to mask the caller's identity, this type of phones is popular with internet fraudsters. That is possibly why as many as 76% of calls go unanswered if they're from unidentified phone numbers.
Question #4: Does My Business Need a VoIP Phone?
When deciding whether to transfer to a VoIP phone service, you should consider the following factors to help you make the right choice.
Reliability Of VoIP Phones
Although the quality and reliability of VoIP calls depend on your internet service provider, any concerns you may have about this can likely be put to rest. Modern-day VoIP calls often sound clearer than landline calls, and even mobile phone calls.
Not only has the VoIP call quality improved by leaps and bounds, it also contains error-correction protocols that make it more stable and reliable.
Remote Work
In the post-COVID-19 era, more and more companies will transition to telecommuting. 25% of company decisionmakers plan to move at least 10% of their workforce to permanent remote positions.
Recent research also shows that 77% of remote workers report better productivity, and 45% of telecommuters are happy with their jobs, compared to 24% of those who work in the office.
VoIP allows your employees to work from their homes or anywhere in the world, potentially contributing to these figures. Software apps, desk phones of softphones are all configurable with VoIP services.
Mandatory Analog Phones
In some cases, traditional phones may be connected to fax or copier machines or simply have an established role in your daily work routine, which may make transitioning to VoIP a bit more difficult.
However, Analog Telephone Adapters can help in these instances. They allow analog phones to send digital data over the internet so you can use a traditional device with VoIP phone system.
Question #5: How Do You Connect a VoIP Phone To a Router/Modem?
To connect your VoIP phone to a router or a modem, follow this multi-step process for either ethernet cable or DECT router connectivity.
Using an ethernet cable:
Step 1: Turn off the router/modem
Step 2: Link the AC adapter to the base station
Step 3: Connect the handset to the base station
Step 4: Connect one end of the ethernet cable to the router's/modem's open port
Step 5: Connect the other end of the ethernet cable to the VoIP phone base station's port
Step 6: Power up the router/modem
Step 7: Connect the phone to the power source (optional: follow your VoIP provider's instructions to configure your VoIP phone for calls)
Step 8: Wait for a dial tone
Using a DECT router:
Step 1: Check your router's built-in DECT capabilities in the user manual
Step 2: Put batteries in the handset
Step 3: Power on the phone handset
Step 4: Press and hold the router's DECT button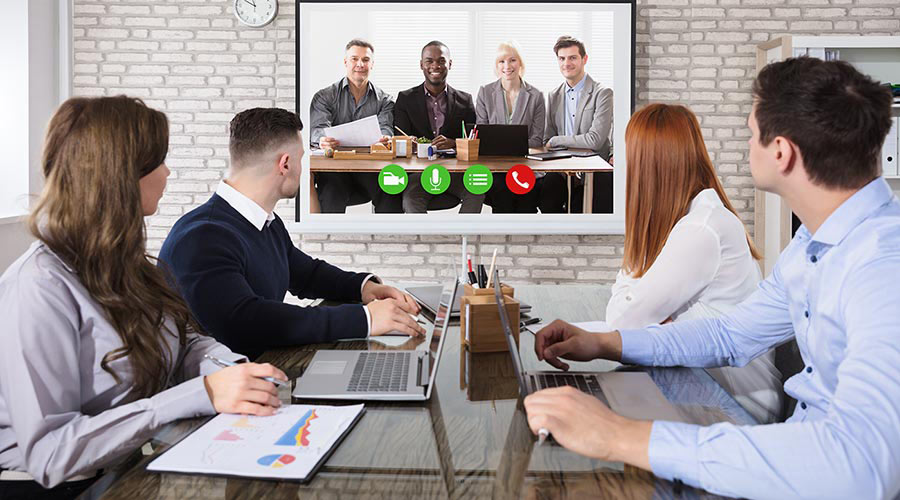 6 Benefits of VoIP For Small and Mid-Size Businesses
Using a VoIP phone service comes with tangible financial and organizational benefits for small and mid-sized businesses.
Benefit #1: Lower Costs
If your business makes long-distance calls on a regular basis, the cost of having many phone lines may add up immensely.
This is where VoIP's cost savings come into play as one of the major benefits for any business.
Traditional phones may charge for every minute of call time. VoIP-related costs are, in fact, your internet service provider's monthly charges.
And the best thing is – it is going to get even cheaper! Gartner estimates that VoIP telephony prices will decline between 3% and 5% on a yearly basis.
As a consequence, a small business that uses VoIP can expect up to 40% in savings for local calls.
The issue of a single phone line being available for only one caller is also eliminated with VoIP: It sends communication data packets via IP network, enabling multiple calls at the same time.
VoIP also helps you reduce costs associated with hardware and software upgrades and maintenance. VoIP providers make sure their clients have the latest hardware and software, so you don't have to purchase your own equipment and infrastructure.
Benefit #2: Global Access & Mobility Of Service
Because it is highly portable and mobile, VoIP technology allows your employees to connect from anywhere in the world, make calls and telecommute efficiently.
VoIP numbers can be easily transferred in case you need to change your office location — unlike traditional phones, that need a unique number for each line, which makes number transferring complicated.
Additional perks of using a technology that allows worldwide access and mobility include decreased utility costs and smaller office spaces.
Benefit #3: Network Flexibility
Your existing Wi-Fi and ethernet infrastructure can serve as a foundation for your VoIP network.
This eliminates the complexity of traditional phone networks and doesn't require the development of a specific technology infrastructure.
VoIP allows the implementation of a standardized system that supports a wide range of communication channels and requires less equipment and management.
Benefit #4: Scalability
A VoIP phone service supports and follows your business's productivity while being highly cost-effective.
As your business changes and grows, an efficient VoIP system will scale with you. For example, adding a new VoIP line for every new employee you hire is remarkably easy, as is eliminating lines if you downsize.
Benefit #5: Simple Integration With Other Business Systems
VoIP systems can easily integrate with a range of business systems and tools that boost your operational efficiency.
For example, VoIP providers can integrate their services with widely used business apps such as Zendesk, Salesforce, Google Workspace, Outlook and others.
These integration capabilities do not require any modifications of your existing tools and apps or IT infrastructure.
Benefit #6: Easy Conferencing & Media Transfer
Using traditional phone systems for conference calls inflates the cost of hosting multiple callers.
VoIP's absence of traditional phone lines makes conferencing simpler. Its conference call features are native and the cost of conference calls is included into the VoIP service price. Which – as mentioned earlier – is lower than traditional phone lines.
An often-overlooked VoIP conferencing benefit is that you can also send and receive various media files during the actual calls.
Key Takeaways On VoIP Phone Service & How It Benefits Your Business
A VoIP phone service streamlines business operations while reducing costs.
Its scalability, flexibility and capabilities such as voicemail to email, conferencing, caller ID and call recording can help enhance your company's daily workflow and productivity.
It enables your staff to work remotely, while keeping and even enhancing their efficiency and work satisfaction.
And the best of all: it requires only your internet connection and it is getting cheaper!
Document Solutions provides expert integration of VoIP phone systems for conducting your business anywhere, including on the go.
Our fully integrated unified communications solution comes with features that boost employee productivity and make teamwork easier than ever across all platforms and devices.
Ready to boost your efficiency and reduce costs with VoIP?
Let's Talk!