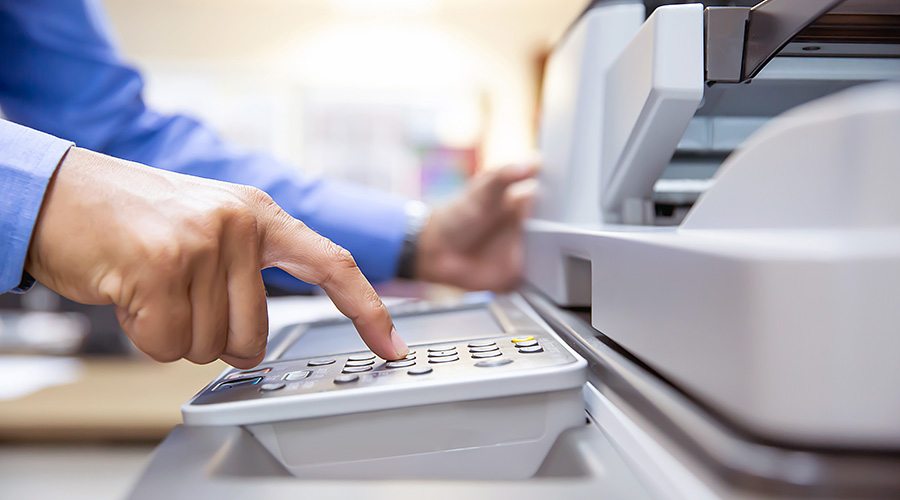 Printing is one of the most common and recurrent daily tasks in most offices today.
But did you know that half of all office support calls are printer-related? Or that the average employee prints $725 worth of pages every year?
Choosing the printer that will serve your business efficiently and as long as possible is the key to improving your company's productivity and cutting down costs.
In this article, we will discuss the best printer brands for office use, how different types of printers work and five factors that will help you choose the best printer for your business.
What Are The Best Printer Brands For Office Use?
Different types of businesses require specific printer solutions (we will discuss the factors that define your choice of printer later in this article.)
However, certain all-around printer brands and models have proven to be more reliable than others in day-to-day office use.
Konica and Kyocera printer solutions are sturdy and can take on any printing volume. The popularity of Bizhub 4052 Copier and Kyocera Ecosys M3645idn models in particular comes down to their quick prints, intuitive use and wide array of integrations.
And who could forget about Xerox? We also have on-hand stocks of the Xerox Altalink C8055.
Another color and B&W print system that provides an exceptional user experience and excellent productivity is KIP 940. Its features include touchscreen tablet navigation, software applications and SNMP protocols.
You can check out the detailed specifications for a variety of multi-functional printers, production printers and wide format printers fit for any office by visiting the Copiers & Printers page on our website.
How Do Laser Printers Work?
Laser printers use toner – a powder that consists of miniature ink particles. When the printer's fuser unit heats this powdered ink, it melts and fuses to the paper under the applied pressure.
Toner is commonly used in the CMYK color range, same as inkjet cartridges. CMYK color combinations can create any color range.
Laser printer brands are the best option for your business if you:
Require fast printers that can print a lot of material
Print large amounts of documents in black and white
Need a sturdy printer for a large office (laser printers are big and heavy and less suited for smaller spaces or home offices)
Don't mind the higher price of toner cartridges compared to ink cartridges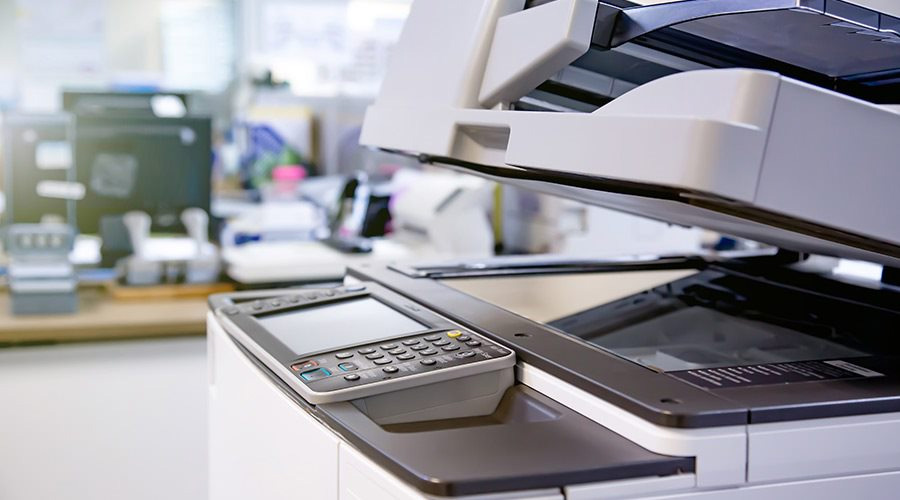 How Do Inkjet Printers Work?
Inkjet printers sprinkle myriads of tiny drops of ink in various colors and sizes onto a piece of paper to form a text or an image.
The dots per inch unit (DPI) defines the printer's resolution: it signifies how many of these droplets are sprayed per inch on a page. A higher DPI means a sharper image, because the printer makes smaller ink drops.
Inkjet printers are better at blending colors and have better tonal variety compared to laser printers. Also, unlike laser printers, inkjet printers can print on a heat-sensitive paper, but they are typically slower and have paper trays with a smaller capacity.
You should consider laser printer brands if you:
Need to print images and other documents in high-quality
Print on a wide range of different paper types
Do not print very often
How Long Do Printers Last?
The lifetime of your printer depends on a range of variables, from prioritizing maintenance and security features to the machine's overall quality.
On average, a printer's lifespan is about 4 to 5 years, although how much your printer will last primarily depends on how well you take care of it. A printer's lifespan is also tied to your choice of printer and whether it matches your office needs.
For example, if you produce a large volume of printed material and have a printer brand with a capacity well below your requirements, the machine may break down frequently, reducing its lifespan.
What Are Managed Print Services & What Should I Look For In A MPS Provider?
A print management company or Managed Print Services (MPS) provider manages your printed document output. They provide and replace printing hardware, parts and supplies and assess your printing needs.
MPS companies track how your office uses printers, provide solutions to printing issues that may arise and optimize your overall satisfaction with printing services.
MPS is one of the key considerations for your business as it helps you operate efficiently, provide better service to your customers, streamline processes and cut costs.
In fact, MPS can reduce your operating costs by 30% while improving your internal print processes.
When evaluating whether an MPS provider can meet your business's needs, here are the factors you should be aware of:
Flexibility and integration capabilities: Find out if your MPS provider can adapt to your specific business environment that may require either a single-server or multi-server infrastructure. They should be able to handle any level of complexity and provide integration with your existing IT setup with minimal disruption.
The security of their solutions: Ask your prospective providers how they secure data that moves from computers to printers, how they release this data safely, if their print management security works with your own safety systems and if they can set up different access controls for different users.
Reporting capabilities: To continuously improve, you need to be able to extract insights from the correct data. Your MPS provider should help you generate and customize reports that are relevant to your KPIs, plus schedule and deliver them in timely manner.
The scalability of their solutions: As your company grows, your printing capabilities may need to as well. Ask the provider if there are limits on the number of printers their solutions can handle and how they manage complex, growing infrastructures.
Cost saving opportunities: Ask your prospective MPS provider whether their solution provides insights into usage costs to identify opportunities for savings. They should be able to deliver a usage pattern breakdown to see if you're getting a maximum ROI and operating efficiently.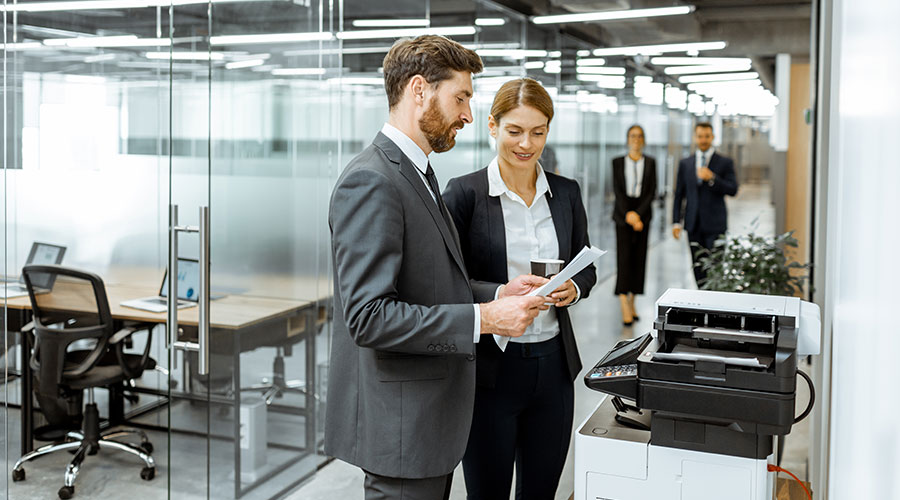 How To Choose A Printer For Your Small Business: 5 Key Factors To Consider
When deciding on printer brands and a specific model that would work best for your business, these five factors should play an important role in your decision-making.
1. Printing Volume Needs & The Printer's Monthly Duty Cycle
A printer's monthly duty cycle is the number of papers a printing device can print every month without jamming or causing an error.
All printer models have this limit, which is based on their stress testing results. Matching it with your printing volume requirements is important because going beyond this limit may cause the machine to malfunction.
To estimate the printers' monthly duty cycle and find the one that's right for your business, consider these two questions:
How many rims of paper does your business require every month?
How often does your staff print during one working day?
2. DPI Requirements
As we established earlier in the article, DPI is a unit of measurement for printing or copying resolution. The higher the resolution, the clearer the printing output.
To ensure the clarity of printed and copied files, you should look for printers with at least 300DPI. 150DPI machines may be sufficient in some instances, but going below this is not advisable when running a business that provides a service to customers.
3. Printing Speed
Another important printer specification is "pages per minute" or PPM.
If your office prints over 1,000 pages per day, or over 30,000-35,000 pages per month, then you should aim for a machine with a speed of 60PPM.
However, if you normally print less than this — and most small to medium-sized businesses do — then a 25PPM – 50PPM range is quite sufficient for your needs.
4. Security Features
The safety of your printers is a very important consideration because 63% of organizations have experienced an issue related to printer data breaches.
Printers — and MPS services — come with a wide variety of security features that vary from model to model.
If your business regularly prints or copies sensitive documents, you should ensure that your printer has the necessary safety measures in place.
The security features your printer should contain include:
Data encryption
Login and transmission password
Data overwrite erase
Job log conceal
Firewall
5. Type Of Paper & Media Types
Think about the type of paper that you commonly use or will use in the future. Most printer machines support all media types, but some printers perform better than others with specific types of paper.
Plain, colored, tracing, recycled, bond, transparent, letterhead, envelope, pre-punched and other media types require specific types of paper. Plan your printer purchase according to the media type and documents you will be printing.
Finding The Right Printer Brands For Your Business: Key Takeaways
When looking to buy or lease the best printer for your business, consider your specific needs for:
Printing volume
DPI/print resolution
Printing speed
Security
Type of paper/media types
Document Solutions offers a wide range of printer brands and printing equipment to suit your business needs.
We also provide flexible and scalable Managed Print Services to improve your processes and efficiency, save you time and money as well as upgrade your printers' security.
Are you ready to partner with Managed Print Services provider?
Get in touch!