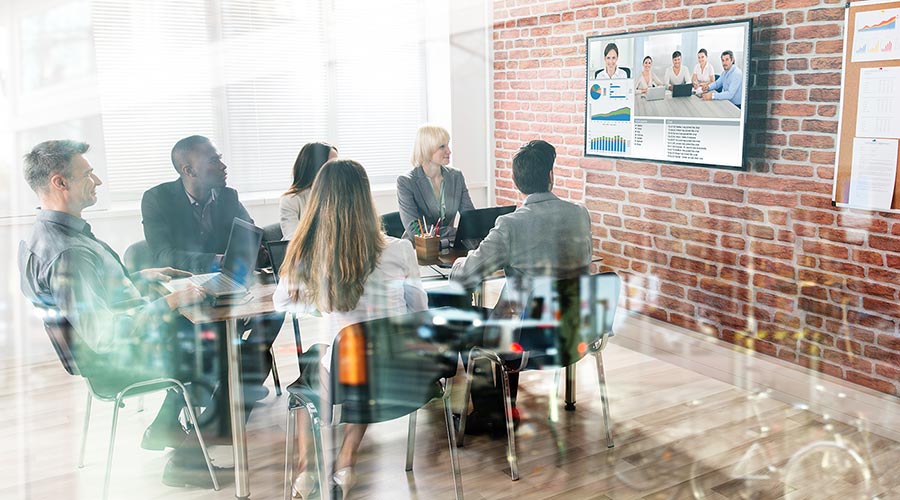 When we say "video conferencing software," we think beyond video calls. We think of an all-in-one platform for unified business communications — UCaaS.
Are you considering a switch from legacy phone systems to cloud communications?
If so, UCaaS may be the right solution for you.
We are here to explain UCaaS, show you how to compare available solutions and lay out the questions you should ask to find the platform that perfectly suits your needs.
Let's dive right in.
What Is UCaaS & How Can It Benefit Your Business?
If you're planning a transition from legacy systems to the cloud, switching from a traditional phone system to Unified Communications as a Service (UCaaS) and finding the right video conferencing software for your (remote) team should be your first step.
UCaaS is a cloud-based communications model that unifies communication channels within a single platform.
Typically, it covers enterprise telephony or VoIP phone systems, audio and video calls, web conference options, instant messaging and group chat/messaging.
For its security, reliability and almost limitless scalability, the cloud has been recognized as the catalyst of digital transformation. More and more companies are embracing the cloud's potential and it seems like this is only the beginning of its blooming future.
According to McKinsey's research, if companies across all industries continue to pursue the opportunities from the cloud technology, the overall value they could generate by the year 2030 could surpass $1 trillion.
Embracing cloud communications as a default operational model for your business may lead you to the following benefits:
Cost optimization of IT management and maintenance
Risk reduction and improved business resilience
Implementation of the latest technologies in core operations
Ability to use technology for agile business development
Business growth from the advanced use of analytics and automation
To get the most of the could technology, it's important to choose the right type of platform and the right configuration for your company.
3 Most Common Types of Online Meeting Platforms
In general, online meeting platforms provide a video conferencing software package that enables users to meet virtually with others in real time, via an internet connection.
Now, let's take a look at common types and options you can have with these platforms.
Type #1: Free Platforms / Free Accounts
Free platforms and those that offer free accounts like Zoom, Google Meet, GoToMeeting, Cisco Webex, Microsoft Teams, Skype and others, offer core features of video conferencing.
They typically include:
Audio, video and web conference calls
Personal chat and group messaging
Screen sharing and file sharing
Keep in mind that free platforms and free accounts are often limited, offering only basic features. This may include limited call time, a limited number of people on a call, limited storage and more.
If you work as a freelancer, a solopreneur or a manager of a small team with less than 30 people, then a free version of these platforms could be the right fit.
Type #2: Accounts with a Monthly/Annual Subscription
Many of the platforms that offer free accounts also offer paid subscription plans. These include Zoom, Google Meet, Microsoft Teams, Skype for Business and others.
Paid versions typically include advanced features, depending on the pricing plan of your choice.
Additional features may include:
Live video streaming
Meeting recording
Meeting transcription
Advanced AI-based options
Administrative account controls
International dial-in numbers
The definitive list of features for each of the pricing plans varies from platform to platform.
Depending on the plan, this option could fulfill the needs of a small business, a medium-sized company or a large enterprise.
Type #3: All-in-One UCaaS Platforms & Cloud Voice Services
As we mentioned, a UCaaS platform typically unifies enterprise telephony, audio, video and web conference calls, instant text messaging and group chat messaging. Plus, it integrates these channels with voicemail, email and more.
An all-in-one platform may offer:
Cloud-based business phone service and managed VoIP services
Enhanced call quality with HD video and web conferencing tools
Continuous network monitoring, maintenance and optimization
A single web-based portal with a custom dashboard for each account
System configuration and feature-rich options for each user
Account analytics, detailed custom reports and expert consulting
End-to-end messaging encryption and advanced call security protection
Again, these are only some of the features. The definitive list will depend on the provider of your choice and your business type, size and requirements.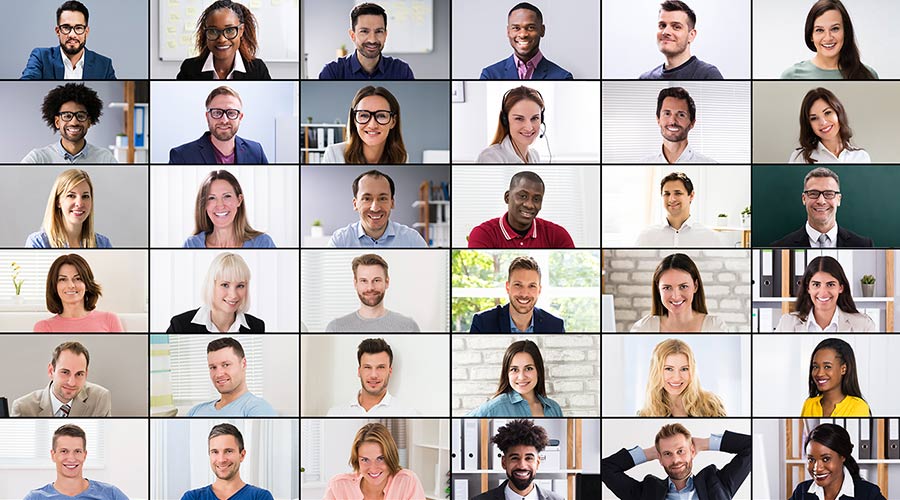 3 Most Common Types of UCaaS and VoIP System Configuration
VoIP stands for Voice over Internet Protocol and it refers to using a cloud-based phone system for inbound and outbound phone calls instead of a traditional, landline network.
UCaaS is an umbrella term and VoIP is one of the elements of UCaaS, but they typically go hand in hand when it comes to cloud-based business communications.
Here are the three most common types of UCaaS and VoIP system configurations.
Configuration #1: Custom / On-Premise
A completely custom-made solution for your company may include a business phone system hosted and managed on-premise.
This means that you can hold on to an in-house phone system – also known as the PBX system – and use SIP trunking to transfer landline calls to cloud communications.
Keep in mind that hosting and managing a business phone system on-premise requires additional costs for hiring in-house experts, as well as hardware, software and network maintenance.
Configuration #2: Hosted / Managed
If you want to reduce communication costs, but still be able to use customized network management and enterprise-level features, then managed VoIP services and a cloud-based all-in-one UCaaS platform for remote teams might be the right solution for you.
This type of configuration includes a system hosted in the cloud and managed by a service provider. It may include expert consulting and guidance through each of the migration steps, so there's no need to hire in-house specialists.
A managed service provider of your choice will take care of the system, infrastructure and account setup, network troubleshooting and issue resolution, account permissions, feature management and system monitoring.
Configuration #3: Hybrid / Mixed
If you need both options – an on-premise phone system and cloud-based communications – you can choose a hybrid system configuration.
This is typically the best solution for enterprise-level organizations and large teams.
It may also be a good solution for companies that are setting the groundwork for a hybrid model of remote work. This includes team members working both from home and from the office, interchangeably.
Even though this kind of work is relatively new, it may be the future of work for many companies even after the COVID-19 pandemic.
How to Compare and Evaluate Video Conferencing Solutions
One of the best ways to evaluate available video conferencing solutions is to create a side-by-side comparison chart.
To make sure you're evaluating the right elements, include the following points in the chart sheet and rate each of them based on the offers from the platforms you're considering:
Free account (if applicable) and its overall features
Pricing plans and additional features for each
Real-time meeting and collaboration options
Mobile use/apps and platform independence
Built-in integrations and custom dashboard options
Third-party integration and support solutions
Growth and future team expansion possibilities
Once you lay out the options in a comparison chart, it will be much easier for you to review and evaluate available solutions. It will also help you with the next step – finding the right fit for your business.
How to Find a UCaaS Platform and Web Conference Software That Suits Your Needs
Once you complete the comparison chart and evaluate each of the options, it's time to find the solution that perfectly suits your company.
To do that, check your business plan and development strategy to outline your specific needs, goals and requirements in the years to come, as well as an estimated budget and non-negotiable features.
Then, ask yourself these questions for each of the cloud communication providers:
Does this provider offer everything I need at this moment?
Will this solution meet my requirements in the future, as my company grows?
Is this platform flexible enough to remain sustainable even with custom configuration?
Is this a renowned provider or a new company? Will it still be here in the next 1-5 years?
Am I going to migrate data on my own or will the provider offer expert guidance?
Are there other companies within my industry that are already using this solution?
Are there testimonials and customer reviews to help me evaluate previous experiences?
Can I move between pricing plans if my team changes? How much will it cost long-term?
Is there an enterprise-level pricing plan? Is it too expensive?
Are some of the premium features included in lower-priced plans? Will that be enough?
Does the offer include only video conferencing options or is it an all-in-one UCaaS platform?
Can I easily integrate other platforms like Google, Microsoft, Salesforce and Zendesk?
When you answer these and other questions relevant to your company, you'll have a much clearer picture of what you need, what you don't need and where to find the solution that suits your small or mid-size company.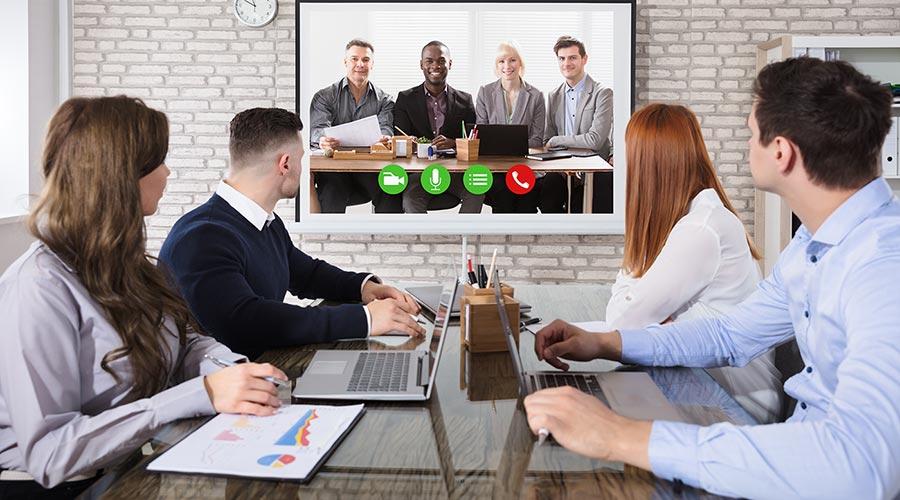 DS Voice Elevate: All-in-One Voice Cloud Service for Small and Mid-Size Businesses
Running a small or medium-sized business doesn't mean that you can't leverage enterprise-level features of UCaaS platforms.
In fact, according to a Frost & Sullivan study:
Small and medium-sized companies (with up to 250 employees) can switch to cloud communications much faster due to their flexibility and agility
Large enterprises are much slower in cloud adoptions due to their massive legacy infrastructures and time-consuming decision-making processes
With a UCaaS platform that is designed specifically for small and mid-market companies – yet offers enterprise-level features – you can improve your business and grow faster.
At Document Solutions, we created an all-in-one UCaaS platform that perfectly fits that description.
It is called DS Voice Elevate and it offers all the (enterprise) features you might need, plus more.
DS Voice Elevate offers:
Cloud-based phone service with 90+ enterprise-grade features
Excellent network call quality and a guaranteed high uptime
Infrastructure and account setup with expert guidance
Capacity planning and customized features management
A custom dashboard with advanced account analytics
A desktop app, mobile app and easy-to-use phones
Dynamic bandwidth allocation and a robust VoIP configuration
A single network for all your communication channels
Some of the DS Voice Elevate benefits for small and mid-size businesses include:
Security: Rely on complete platform security and advanced data protection
Reliability: Gain access through a desktop and a mobile app or use a plug-and-play phone
Scalability: Expand your business without interruptions to your employee workflows
Operability: Configure the right setup for your business to ensure smooth processes
Video Conferencing Software and UCaaS Platforms: Key Takeaways
To wrap this all up, here are the steps you need to take to find the right UCaaS platform and video conferencing software for your business:
Learn about the benefits of cloud communications, including cost and risk reduction
Choose between a free account, paid subscription plan or all-in-one online platform
Find the right configuration for you, whether it's on-premise, cloud-hosted or hybrid
Compare and evaluate available video conferencing solutions using a comparison chart
Find the most suitable solution for your business by asking the right questions
And last but not least, learn more about DS Voice Elevate, an all-in-one UCaaS platform and a VoIP solution that offers 90+ enterprise features to small and medium-sized companies.