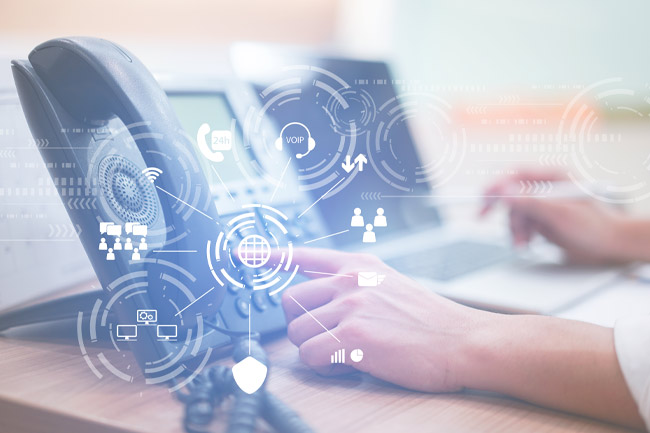 Can you relate to any of these:
You rapidly shifted to the remote-only setup, and now your communication and team collaboration are all over the place
Part of your team is working from home while others are at the office, and you are struggling to track productivity in this hybrid model
Or, your team members are distributed across the globe — your customers, too — and you need to streamline business communications for the sake of customer satisfaction?
If any of these scenarios rings a bell, then a VoIP phone system might be the right solution for you.
In this article, we'll quickly explain what a VoIP system is before we dive into the nitty gritty of unified business communications, its features, possibilities and benefits.
Plus, you'll have a sneak peek into our DS VOICE platform that offers enterprise-level features for small and medium-sized businesses.
Let's begin.
What Is a VoIP Phone System?
A VoIP phone system is a business solution that moves your company's internal and external communications to the cloud.
VoIP stands for Voice over Internet Protocol. It means that your inbound and outbound calls happen online, i.e., via a broadband internet connection, instead of using an analog network and landline phones.
A VoIP phone system typically includes an online platform where you can manage all your calls in one place. It can help you level up your legacy office technologies and benefit from the cloud's flexibility and scalability.
In a way, VoIP is used as a synonym to Unified Communications as a Service (UCaaS), even though UCaaS is a broader term.
UCaaS integrates VoIP and refers to a cloud-based platform that unifies phone calls, audio and video meetings, web conferences, instant messages, file sharing, screen sharing and other communication channels.
If you decide to set up a VoIP system, consider using managed VoIP services to ensure that transition, network setup and further maintenance go as smoothly as possible.
What Are the Key Benefits of a VoIP System?
A VoIP system typically includes desktop and mobile applications, as well as phones with simple plug-and-play options to help you quickly set up a home office for your employees, wherever they are.
The key benefits of using a VoIP phone system include:
Flexible solutions with features that match your business requirements
Reliable connection that helps you stay available in and out of the office
Reduced communication costs with customized network management
These will also help you avoid any additional costs for hardware and landline network maintenance and there will be no need for you to hire in-house experts.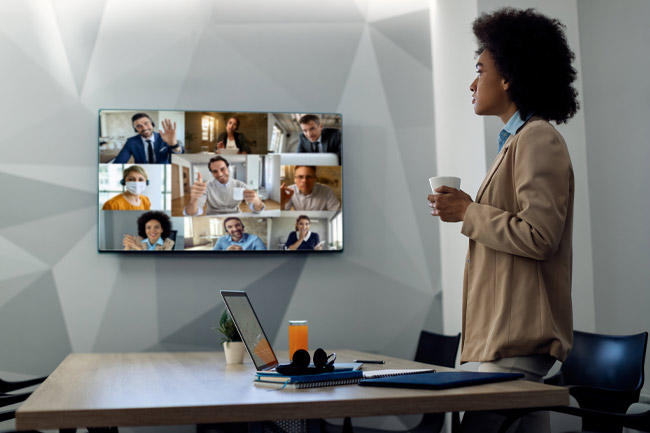 3 Ways a VoIP Phone System Can Help You Increase Employee Productivity
1. Unified Communications
Instead of juggling multiple applications such as Slack, Outlook, Office 365 and others, with VoIP you will have one platform that supports and integrates them all.
In other words: Your VoIP system, the integral element of UCaaS for remote work, will house and streamline every communication channel you use including phone calls, video calls, voicemail, web fax, file sharing and more.
Not having to switch back and forth between applications can eliminate a lot of the lag time and make your co-workers much more efficient and, therefore, more productive.
2. Enhanced Collaboration
By integrating key communication platforms, a VoIP system enables your team to collaborate in real time from anywhere, anytime and on any device, helping you create a more flexible workforce.
A VoIP system, integrated within a UCaaS platform, will support your teams' online meetings, allowing them to share screens, share files and collaborate as if they were in the same room.
According to Tower Watson study, organizations that manage communication and change effectively are 3.5x more likely to outperform their competitors.
Streamlined communication improves decision-making process across your organization, helps you build a strong collaborative company culture and helps your team members thrive.
3. Simplified Integrations
Besides integrating your communication channels, you can integrate your UCaaS platform with other technologies to increase flexibility and further empower your workforce.
For example, you can integrate an UCaaS platform with your customer relationship management (CRM) software to reap deeper insights into customer behaviors and track changes in real-time.
Or, you can integrate the platform with your offshore customer support, wherever they may sit. In this case, you'd have all your email, chat and call cues in one place to ensure fast response and quality resolution of any issue as it arises.
DS VOICE: A Business VoIP System with Enterprise-Level Features for Small and Mid-Size Companies
At Document Solutions, we strive to offer only the highest-quality products accompanied with the highest-quality service to simplify your business life.
That is why we created DS VOICE, a UCaaS system designed for a remote workforce, with key VoIP features.
DS VOICE enables you to place and receive calls, see who is available, chat with colleagues and manage voicemail – anytime, anywhere.
It comes with preconfigured plug-and-play desk phones for your employees' home offices.
If your in-house tech support team is distributed and you are outsourcing your call center on top of that, DS VOICE would also enable you to keep the voice, chat and email ques within a single omni-channel platform.
What are the key features?
Our DS VOICE platform provides you with a set of features designed to optimize communication among your remote teams:
Cloud-based phone service with 90+ enterprise-level calling features
Excellent network call quality and uptime
Call reporting managed from a single web-based portal
Flexibility to communicate the way that works best for your team
Place and receive calls for your associated desk phone
Face-to-face meetings via HD video call and conferences
Share screen option to speed up decision making in real-time
What Is Included?
With DS VOICE, every user receives:
A mobile and desktop app
A local phone number with unique extension
Up to five endpoints
Inbound/outbound caller ID
WebFax features
Voicemail box with transcription services
Team chat and direct messaging
Online video conferencing feature
2 GB file share and backup per user
These are only some of DS VOICE phone features. Contact our team for the full list!
How It Helps You Improve Business Communications?
With DS VOICE's mobile and desktop apps and pre-configured phones, you will be able to:
Access files from desktops, laptops, smartphones, tablets and web servers
Keep full control over user accounts, devices and files
Get real-time backup of all your data to prevent any data loss
Benefit from a point-in-time file restoration for quick recovery
Sync contacts and integrate third-party platforms (Office 365, Google and more)
Record voicemail and get messages automatically transcribed and delivered to your inbox
Integrate chat, SMS, video conferencing, screen sharing, file sharing and file backup
What Are the Key Benefits?
Some of the key benefits of the DS VOICE platform include:
Reduced infrastructure and operating costs
Voice and data consolidation into one network
High network and system reliability
Simplified scaling to suit your business growth
Enhanced collaboration across the organization
More productive workforce available anywhere, anytime, on any device
Improved customer support and increased customer satisfaction rate
For detailed reviews of how the DS Voice platform work, you can visit and subscribe to our YouTube channel. We continuously publish short and easy-to-follow DS VOICE tutorials for you.
How to Set Up a VoIP Phone System for a Remote & Hybrid Workforce
According to McKinsey's analysis, more than 20% of the workforce around the world could work remotely 3-5 days a week and still keep their office level of efficiency.
Whether your team is fully, occasionally or partly remote, or still works in-office, your company can benefit from a cloud VoIP system, typically hosted and managed by a service provider.
More importantly, setting up a VoIP system is fast and simple, especially when you get professional guidance from your provider.
Your VoIP service provider will help you with:
Network setup
Account setup and permissions
Network maintenance and optimization
Capacity and growth planning
Expert consulting
Of course, the final setup will depend on your business size, goals and capacities.
Key Takeaways on How You Can Increase Productivity with a VoIP Phone System
If you run a remote-first company or manage a distributed team during the pandemic and plan to continue with a hybrid work model in the future, a VoIP phone system might be the solution that can help you streamline communications and increase productivity.
You can implement a VoIP phone system without big changes to your team's infrastructure and get your team members access to diverse features only available in cloud-based systems.
Here are some of the key points on how a VoIP phone system can help you streamline communication and processes:
Remove communication and collaboration barriers
Simplify a decision-making process for a remote team
Integrate third-party applications safely and securely
Streamline phone, video, SMS, email, chat, fax, web and other channels
Provide more flexible options to your customer-facing employees
Enable collaboration across all devices with real-time management
Identify trends in your inbound and outbound communications
Optimize your office technology for future business growth
Visualize progress towards your goals using customized dashboards
Setting everything up and managing the transition of your business communications to the cloud may sound daunting, but VoIP systems can easily be integrated into your operations.
If you use managed VoIP services, you ensure quick setup, smooth transition and continuous network maintenance.
Be sure to explore our DS VOICE platform and start improving your team's productivity today.