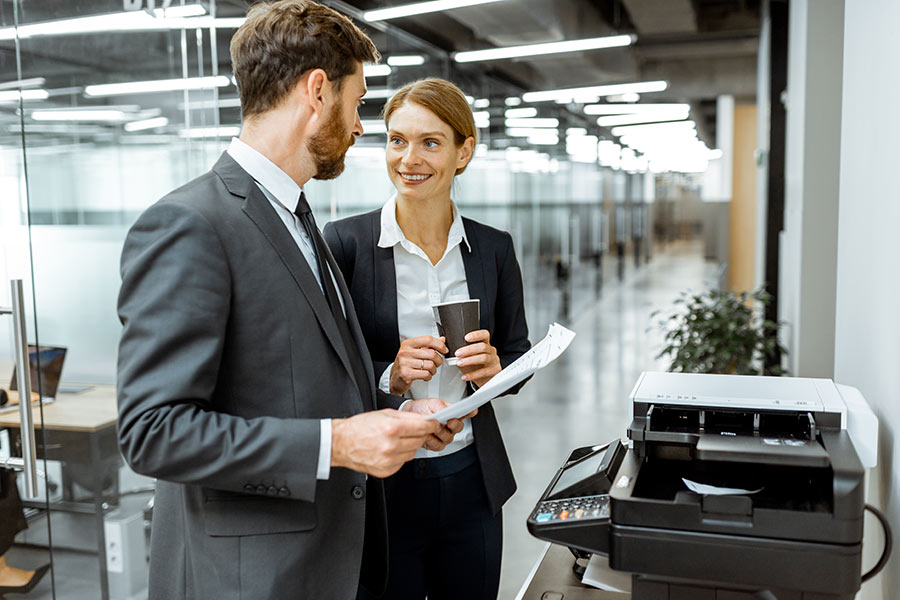 Ever since the introduction of the revolutionary Xerox 914 in 1959, the copier has become one of the main symbols of a modern workplace.
And even though copiers and printers have come a long way since 1959, one of the main dilemmas around them has remained the same: is it better to lease a copier or printer or to buy one outright?
If you're wondering about the same thing for your business, you've come to the right place.
In this blog, we'll draw definitive conclusions to the printer/copier leasing vs. buying debate, including a comprehensive cost comparison and the pros and cons of each.
Interested in buying or leasing a copier?
Find Yours
Copier / Printer Leasing vs. Buying: Comparing Costs
Commercial-grade copiers and printers such as the Xerox Altalink C8055 are often more expensive than you might think.
As a result, the leasing opportunity inevitably comes into the equation as a cheaper option — at least in theory.
Regardless of whether we're talking about buying or leasing, the end price of having a printer a copier installed in your office depends on a few things:
Functionality: Multi-function printers (MFPs) and color multi-function copiers are typically more expensive than their single-function counterparts or devices that are only capable of black-and-white print.
Printing capacity: One of the key characteristics of any printer or copier is its page per minute (PPM) printing capacity. The higher the capacity, the more complex, heavy-duty and, as a result, expensive the device will be.
Purpose: Commercial-grade printers and copiers are different from personal-use devices, and the cost reflects that. For instance, a small multi-function copier fit for a small office will be much cheaper to buy or lease than high output production printers, commonly used by printing houses.
With these factors in mind, let's see how the average costs of buying and leasing a printer or copier compare.
Costs Of Buying A Printer / Copier: $250 – $250,000+
As we've mentioned, the average cost of buying a printer depends on quite a few factors. As a result, you should be prepared to navigate a wide and diverse price range.
Commercial-grade printers typically start at around $250 for a no-frills Konica Minolta bizhub 3602p, capable of printing 38 monochrome pages per minute.
However, the 3602p does not offer copier functionality, so it would be most suitable for a very small office that only occasionally deals with paper documents.
A more comprehensive solution would be a multi-function printer or copier, such as the bizhub C250i.
While it's only capable of printing 25 pages per minute, its functionality is enough to satisfy the needs of a small to medium enterprise: monochrome & color printing, scanning, copying, mobile connectivity and more.
However, it also commands a considerably higher price tag of around $3,500. And yet, this number pales in comparison to what the more sophisticated devices will set you back.
For example, if your needs include a printing capability of at least 70 pages per minute, a resolution of as much as 1200 x 1200 dpi and support of various paper sizes, the KYOCERA TASKalfa 8353ci could be the right solution for you.
Developed with larger, more demanding organizations in mind, the TASKalfa 8353ci is a reliable, high-performance machine — which, as we've already learned, translates to a significant MSRP of around $42,000.
From this point, the prices of commercial-grade printers and copiers go nowhere but up, and production printing solutions, such as KYOCERA's TASKalfa Pro 15000c and Konica Minolta's AccurioPress line, can be priced at hundreds of thousands of dollars, depending on the specification.
The good news is, with such a variety of options, you're sure to find models that suit your needs — while also, hopefully, suiting your budget.
Costs Of Leasing A Printer / Copier: $50-$500+ Per Month
Commercial printers and copiers can be prohibitively expensive — especially for smaller businesses.
This is why copier and printer leasing has emerged as an option that doesn't require considerable out-of-pocket investments. However, the prices can vary even in leasing, depending on the type of device.
The leasing rates usually start at around $50 per month for simple, single-function machines — such as the Konica Minolta bizhub 3602p we mentioned above.
Anywhere between $100 and $300 per month gets you a slightly more sophisticated machine with more features, while paying between $300-$500 per month should cover an adequate multi-function device that will address the printing needs of an average business.
Finally, the top-of-the-line devices that cost thousands of dollars to buy can be leased for $500 per month and more.
Keep in mind that the exact cost of a printer or copier lease depends on several factors, such as the length of the lease and optional services.
Simply leasing the device may not always be the most cost-effective solution, as such arrangements rarely cover other important costs that arise from operating a commercial-grade copier or printer, such as:
Maintenance & tech support
User training
Ink and paper
Spare parts
Investing in Managed print solutions (MPS) with a reputable and trusted provider can ensure that all these additional needs are met.
Managed print services, a solution that we proudly offer, include the option to lease a device that suits your needs, receive regular updates and training when needed and save on supplies.
Talk to our Managed Print Solutions experts.
Let's Chat
The Pros Of Office Printer / Copier Leasing
Now that we've covered the average costs of buying and leasing a copier or printer, let's explore the advantages and disadvantages of each solution — starting with leasing.
Leasing Benefit #1: Lower Out-Of-Pocket Expenses
The first and most important benefit of leasing are the lower out-of-pocket costs you'll need to commit to, as opposed to purchasing a copier or printer outright.
As we've discussed above, paying between $200 and $400 on a monthly basis to lease a capable device is more manageable for most businesses than taking out several hundred or thousands of dollars out of the cash flow to buy one.
Leasing Benefit #2: Flexible Commitment
Companies that offer printer and copier leases are interested in building a mutually beneficial partnership with their clients. As such, they can be flexible with lease terms and conditions.
Typically, the longer the lease period is, the smaller the monthly fee will be, but, you can choose the lease period that suits your budget best.
Leasing Benefit #3: Tax Benefits
If you choose to lease your copier, each leasing fee can be considered an official business expense.
Businesses expenses like this one can typically be used a write-off on your yearly taxes, which can help lower your taxable income.
The Cons Of Office Copier / Printer Leasing
While leasing can be a very cost-efficient arrangement, it also has a few drawbacks.
Leasing Drawback #1: Additional Costs
In some cases, entering into a leasing agreement can incur additional costs, like optional services and interest.
While the optional services and costs are something you can opt out of, the interest is unavoidable and you will end up paying a few percent over the MSRP for your printer or copier once the lease is over.
Leasing Drawback #2: Locked Lease Periods
The lease is a binding agreement, which means that once you sign it you will have to stick to it until it expires — whether it's a year, two years or three.
As such, you'll need to carefully consider the terms and conditions of the lease before you enter it, so that it doesn't become a burden for your budget at any time.
Leasing Drawback #3: No Immediate Ownership
The third and final drawback of leasing is that it doesn't give you ownership of the leased device. Instead, the device remains the property of the leasing company.
And while some companies offer the opportunity to buy the device at the end of the lease or transfer the ownership directly, others may request that it be returned at the client's expense.
The prices of commercial printers and copiers vary greatly from just a few hundred dollars to over $250,000 for production printers found in printing houses.
The Pros Of Buying An Office Copier / Printer
If leasing doesn't seem like an arrangement that's right for you, you can always consider simply walking into a store and buying a copier or printer.
And while doing so has its advantages, it also has some drawbacks — let's explore both.
Buying Benefit #1: Immediate Ownership
The immediate ownership and the peace of mind that comes with purchasing are the biggest benefits of simply paying cash for a printer or copier.
Once you purchase it and have it installed in your office, you are free to do whatever you want with it and maintain it in whatever way you see fit.
Buying Benefit #2: It May Be Cheaper In The Long Run
Even though commercial printers and copiers have large price tags attached to them, purchasing one for cash could be cheaper in the long run than leasing.
Aside from part, maintenance and consumables, buying such a device is a one-time investment not affected by interest or other conditions that might balloon your printing costs.
Buying Benefit #3: Additional Equity
The act of buying an MFP might be an expense, but the act of owning it is an asset. When purchased, the device becomes a part of your business' equity.
And just like any other asset or equity, it can be liquidated — or sold — in case you need to inject some funds into your cash flow urgently.
The Cons Of Buying An Office Copier/Printer
When looking only at the benefits, buying may seem like the perfect solution to your printing and copying needs. However, it does have a few disadvantages.
Buying Drawback #1: Higher Upfront Cost
Despite the benefits of buying, there is no avoiding the elephant in the room — professional printers, copiers and other devices are just very expensive.
As a result, purchasing one for cash can wipe out a considerable portion of your monthly, quarterly or even annual revenue.
Buying Drawback #2: Challenging Upgrades
A significant advantage of leasing your printer or copier is the opportunity to upgrade your device if it becomes obsolete or malfunctions — typically, without any additional expenses.
This is not the case with buying: the lifecycle of a commercial copier is around five years, and once it becomes outdated, it leaves you no choice but to invest another considerable sum of money into a new one.
Buying Drawback #3: More Responsibility
The biggest selling point of leasing is its hassle-free nature. You simply pay the leasing company and they take care of all the costs and problems that come attached to your copier.
If you own the device, however, you become responsible for all those costs and problems.
Figuring out how to get the best deal on ink cartridges, finding the most qualified technician that will get your malfunctioning copier up and running fast — these issues do not only require money, but also your efforts and precious time.
Copier leasing offers many benefits, such as repairs and maintenance being included in the monthly lease fee.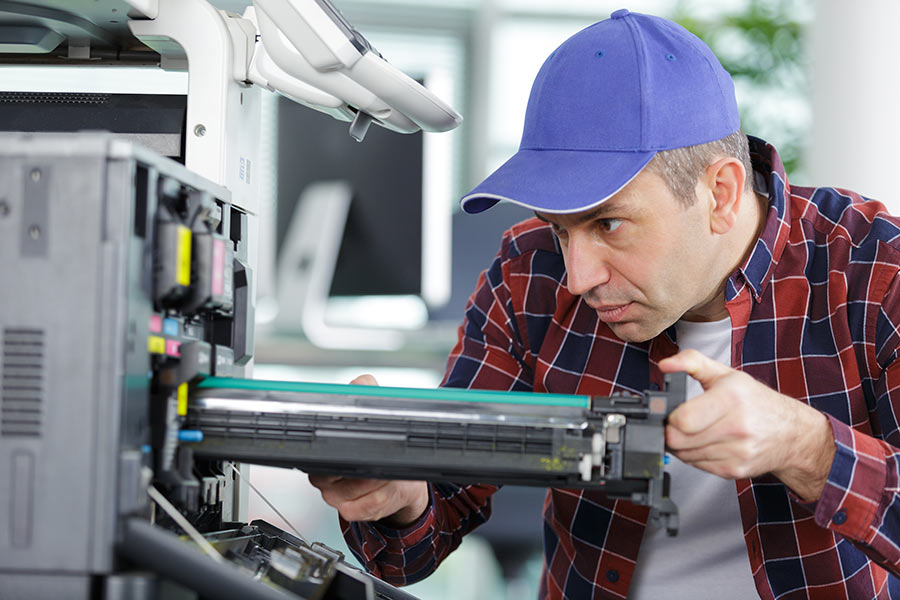 Should You Buy Or Lease An Office Printer / Copier?
Even though both leasing and buying have their distinct pros and cons, leasing may be a better option for you in most cases. Here are the key reasons why:
While leasing doesn't grant you the ownership benefits that come with buying a printer or copier, it also relieves you of the additional responsibilities.
Even though you might end up paying slightly more for the device under a leasing program, the additional interest is not likely to shock your budget as much as paying cash for the device would.
As part of the leasing agreement, you will get qualified tech support, training and maintenance, all without having to spend time and money figuring those things out yourself.
Overall, leasing is the most cost-effective and convenient option out of the two. It takes a considerably smaller toll on your cash flow than buying, although its true value lies in the convenience and the peace of mind that leasing arrangements offer.
Not to mention, you can easily upgrade your lease to a comprehensive managed print solution, which will cover nearly all of your business' document management and printing needs.